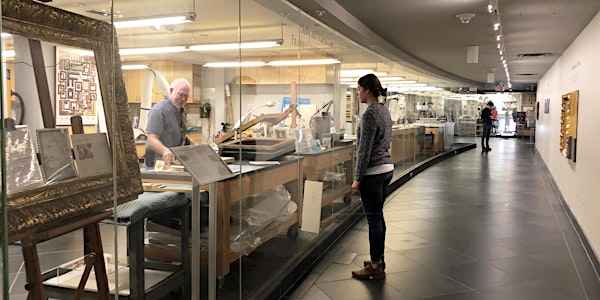 In-Person Behind the Scenes Conservation Center Tour
Location
Smithsonian American Art Museum
8th and G Street NW
Washington, DC 20004
Go behind the scenes in our Lunder Conservation Center to learn more about the plastic objects in SAAM's collection
About this event
Did you know there are almost 600 plastic objects in SAAM's collection? Beach balls, electric plugs, synthetic fabrics, baby dolls, and even full-size car tires are just a few examples of objects that need serious attention and care to ensure their preservation. Join conservator Sarah Montonchaikul in SAAM's Lunder Conservation Center to learn about the unique challenges and techniques of preserving plastic works of art. Space is limited and registration is required.
Space is limited to allow for social distancing. Registration is required and will be available starting June 30.
Please Note COVID-19 Guidelines:
The Smithsonian no longer requires visitors to wear a mask to visit its museums and the National Zoo. Visitors may choose to wear a mask during their visit or while participating in a program or event. Social distancing continues to be encouraged and we ask people who do not feel well to stay home. Updated information about COVID-19 guidelines and safety measures is online at si.edu/visit.
The Smithsonian reserves the right to modify its hours of operation, capacity, and visitor guidelines as circumstances require.