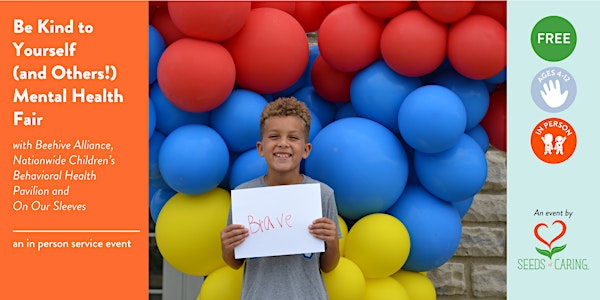 In Person: Be Kind to Yourself (and Others!) Mental Health Fair 8.21.22
Children will learn mental health tools, engage in service activities, and explore the link between self-kindness and kindness to others.
When and where
Location
Sunny 95 Park 4395 Carriage Hill Lane Upper Arlington, OH 43220
About this event
Who this in person service event is for:
Ages 4-12. Adult caregivers are required to accompany child participants. Siblings of participants outside this age range are welcome, but may find the event to be less meaningful and fulfilling.
What we'll be doing:
Join us for our back-to-school mental health fair - a free event providing valuable mental health tools for children while exploring the link between self-kindness and kindness to others. In partnership with Beehive Alliance, Nationwide Children's Behavioral Health Pavilion, and On Our Sleeves, this fun & engaging event will include activities like yoga, kindness kits to be donated, affirmation pictures, kindness rocks, a take home plant, information and resources from partners, and more!
Event Schedule:
2:30 pm - Yoga Session 1
3:00 pm - Sensory Friendly Yoga
3:30 pm - Yoga Session 2
COVID-19 Protocol for In Person Events:
Please review our COVID-19 Protocol for In Person Programming before registering for this event. This is an indoor and outdoor event and masks are recommended.
Specific Instructions:
All supplies will be provided. Families are encouraged to bring 1+ NEW book(s) to be donated to the Big Lots Behavioral Health Pavilion.
Why you'll be asked to donate:
Every time we're able to design, coordinate, and offer an opportunity for kids to give back, it's with the help of supporters like you. Please consider making a generous gift to help us continue to empower kids to create a kinder community with their hearts, hands, and minds.