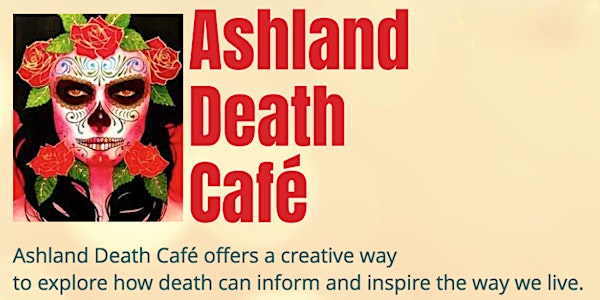 IN PERSON Ashland Death Café - Tuesday, December 13, 2022
$10 suggested donation. More if you can, less if you can't.
When and where
Location
Havurah Shir Hadash 185 North Mountain Avenue Ashland, OR 97520
Refund Policy
Refunds up to 1 day before event
Eventbrite's fee is nonrefundable.
About this event
Ashland Death Café is a place where people eat cake, drink tea and explore how death can inform and inspire the way we live.
No one will be turned away for lack of funds, and we ask that you please make a donation to cover the cost of the venue, refreshments, plus other costs incurred to manage the website if you are able. Please Note: All facilitators of Ashland Death Café are unpaid volunteers.
Also, we will have a list of attendees at the door for check-in, so we invite you to save paper by not printing your ticket!
There is no intention of leading participants towards any particular conclusion, product or course of action and is open to all, though it may not be appropriate for people who have experienced a very recent and/or traumatic loss or death. It is not intended as a bereavement support, grief counseling or therapy group.
• OUR FACILITATORS • 
Laurel Miller is passionate about working with people, young and old, around end-of-life topics.  She completed the Anam Cara Program at the Sacred Art of Living Center.  She volunteers with Compassion and Choices working with individuals and their families as they make their end-of-life choices.  She's a member of the Southern Oregon Hevre Kadisha.  She leads workshops that support the participant's desire to explore themselves and the mystery of life and death.  Also a seasoned mediator, an independent coach and facilitator, Laurel is dedicated to supporting individuals and the conversations that they need to have before they are no longer able. 
Jennifer Mathews is a writer, consultant and laughter yogini with a passion for uplifting the human spirit. After her life-partner died in 2011, Jen began sharing her experiences of death, grief, joy and optimism to support others on their journeys (JenniferMathews.com). In her 2019 TEDx Talk "Death is Inevitable, Grief is Not," she challenges us to rethink the expectation of grief and how we respond to death. In recent years, Jen has worked with the community outreach and training team for the award-winning film Death Makes Life Possible. She has facilitated conversations about death and the afterlife across the US, as well as the UK and Ireland. Her home base is Mount Shasta, CA.
Judy Dolmatch is a licensed clinical social worker, practicing in Ashland since 1988, with a specialty in life passages and trauma recovery. She teaches and performs Playback Theatre, improvisational theatre based on audience stories. She facilitates Zegg Forum, a group process that values authenticity and aliveness. With the death of her mother last year, she immersed herself in a process of exploring end of life issues, loss and grief through literature, media and ritual. Judy attended her first Death Cafe this year. It was so meaningful that she was motivated to become a facilitator for the Ashland Death Cafe.
Judith Milburn is a psycho-spiritual psychologist, sharing this exploration, making friends with death—death of our loved ones and ourselves. She says, "Death has presented itself to me viewing my great grandmother lying in her casket in her darkened living room, hearing my grandfather before he died say he was hearing the angels sing, brushing my Mother's hair moments after she had died, sitting by my brother as he released his last breath. Learning of Conscious dying, I prepare myself for that once in a lifetime experience—releasing my last breath, being with myself and Source, taken over into The Great Mystery." 
Julie Freed was "introduced" to death at birth as her 2 year old sister had died 2 weeks prior.  It's been a lifelong journey that brought fear of death for much of her childhood and recently has turned her towards exploring the vast field of death and dying after attending a Death Walker training last year.   She is also honored to be part of the Hevre Kadisha for many years. She is studying dream therapy and teaches yoga, facilitates constellation groups, dream circles and loves bringing people together.  Ashland and this beloved community have been her home for over 20 years.
Anya Kumara, as a chaplain, Anam Cara mentor, poet and artist, has the ceremonial sensibility to create sacred space for the ailing, the dying and grieving ones by attuning to their essence rather than a diagnosis, story or  persona.  She honors all beings great and small embodying reverence, gratitude, good humor and a great trust in life, with a knowing that the universe makes no mistakes.   As a bridge between dimensions, she agrees with Rumi:  "Our death is our wedding with eternity."  She celebrates life with a deep understanding of love inside loss and gratitude for the delicate presence of Spirit. 
Mira Sophia, moved by people's willingness to speak about death and share from a place of depth and vulnerability, was drawn to the Ashland Death Cafe. She spent two years as a hospice volunteer and has been in service to friends who desired home death ceremonies. She is honored to be a part of the local Hevre Kadisha. As a compassionate teacher, mentor and guide, Mira creates ceremonial space for deep healing and transformation including sacred travel pilgrimages. She has been a group facilitator for over 25 years. Her life is about depth and mystery which she explores through her personal relationships, community and being in service. She has lived in Ashland for 20 years.
Hayriya Heidi Hansen seeks to uplift and empower individuals struggling with life threatening diseases. Through her Compassionate Care business she gently coaches, supports and honors each person and family with their unique life and death challenges.  Hayriya offers adult adoptee support groups and meditation circles in Santa Cruz, Williams and Ashland. Her enthusiasm, honesty, and positive approach to life and death is palpable and infectious. Sitting at the bedside of dying people for over fifteen years,  Hayriya is an End of Life Doula and also volunteers with Southern Oregon Friends of Hospice at Celia's House.
Estevan Serrano is an Arizona native happy to be among the trees in Oregon. Before moving to Ashland with his partner Kristen and their canine sidekick Khloe, Estevan facilitated retreats for men and their high-school aged sons. When he discovered ADC, he fell in love with the open dialogue and group contemplation of death. Since then he has felt called to help to open more conversation around death in our community. He also loves and hiking and his connection to nature is central to his interest in life, death, and the connection between matter and consciousness. He is passionate about creating healthy relationships and sharing conversation around these topics so that we may live happier lives rich with meaning. When he's not helping entrepreneurs improve their marketing Estevan can be found clipping blackberries, doing yoga or listening to books.
EMERITUS Facilitators
Barbara Acquilino
Michael Cecil
Julian Spalding
Pat Fitzsimmons
Selene Seltzer
Anya Kumara
Eric Grace