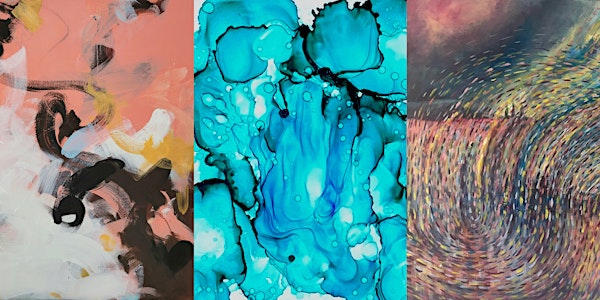 In-Person Artist Reception @ Mission Bowling Club
This exhibition features the work of Bay Area artists: Mary Lawrence, Devyn Passaretti & Ayesha Samdani
When and where
Location
Mission Bowling Club 3176 17th Street San Francisco, CA 94110
About this event
ArtSpan and Mission Bowling Club invite you to visit our latest exhibition featuring ArtSpan Artists Mary Lawrence, Devyn Passaretti & Ayesha Samdani! Join us in person to see and hear what our thriving creative community has to offer! Mission Bowling Club will provide refreshments and an alley for bowling from 7pm until 9PM. Artists will be present and available to speak about their work throughout the reception.
Mission Bowling Club requires proof of vaccination for all guests 12 and older who will be bowling, or dining and drinking indoors. Please be prepared to show a photo ID in addition to proof of vaccination in the form of your physical vaccine card, a photo of your vaccine card, or a QR code provided by the state of CA. They highly encourage guests to wear masks indoors when not eating or drinking for the protection of their staff and other guests. Mission Bowling Club is an all ages space until 6pm every day, during which time they kindly ask guests to continue to wear masks to keep this space accessible to all.
The colorful exhibition is on view at Mission Bowling Club, 3176 17th St, accessible by visiting the Mission-neighborhood bowling alley, restaurant and bar in-person and on our online store: AIN @ Mission Bowling Club Fall 2022
In-Person Reception: Wednesday, October 5, 2022 from 6 - 9PM
**As an attendee, you will receive reminders 48 hours, 7 hours, & 2 hours before the event starts.**
Exhibition Dates: September 6, 2022 - December 12, 2022
Featured Images:
"Wet Sand" (detail) by Ayesha Samdani
"Aqua" (detail) by Mary Lawrence
"Honeycomb Eruption" (detail) by Devyn Passaretti
__________________________________________________________
About the Art-in-Neighborhoods Program:
ArtSpan's Art-in-Neighborhoods program serves the city of San Francisco by connecting communities with local artists while activating spaces with vibrant, locally-made artwork. ArtSpan partners with local businesses and building owners to bring art exhibitions and art events to businesses, dormant storefronts, and empty spaces for lease that seek artwork for their blank walls. Local artists who are ArtSpan members are given the opportunity to display, promote, and sell their artwork in these diverse venues. All aspects of the program allow otherwise unused walls, spaces, or properties to become creative arenas for celebrating local arts.
The Art-In-Neighborhoods program strives to create visibility and accessibility for local arts in San Francisco. ArtSpan provides the public with free, high quality arts exposure. Simultaneously, local ArtSpan artists are given the opportunity to promote and sell their artwork. Each of the Art-In-Neighborhoods exhibitions and community events will provide clear, consistent information about ArtSpan programming to educate the public about ArtSpan's goals and how to become a supporter – by attending our events and buying artwork from local artists!