Location
Books & Books
265 Aragon Avenue
Coral Gables, FL 33134
Robert Mack joins us in person at Books & Books to discuss his latest book LOVE FROM THE INSIDE OUT.
About this event
Books & Books is excited to present an evening with Robert Mack as he discusses his book Love from the Inside Out: Lessons and Inspiration for Loving Yourself, Your Life, and Each Other (Mango, $18.95).
***Please note: This event will take place at the Books & Books in Coral Gables at 265 Aragon Ave. Tickets are FREE and books will be available for purchase at the event. Want your copy early or can't make it in-person? Order your copy online here.
About the Book:
Robert Mack has helped millions of people transform their love lives on and off television. In his most recent release, he shares a fresh, new perspective on the meaning of true love.
With his charismatic warmth, wit, and compassion, Mack explores the frustration and futility of seeking love from others, instead of yourself—and in the future, instead of in the present.
In the form of short meditations, Love from the Inside Out invites you into an intimate conversation about relationships, one where you will conduct your own personal inquiry on love. As a result, some of your most cherished premises about love will be explored, questioned, and challenged.
If you are looking for something other than—or in addition to—your typical relationship book, psychology book, positive thinking book, self-help book, or spirituality book, look no further. Using the powerful pointers and transformative teachings in this book, you will finally discover the happy, healthy, and harmonious experience of true love you deeply desire and truly deserve.
In Love from the Inside Out, find answers to questions like, how can I:
- End my loneliness?
- Overcome my fear of being alone?
- Love myself first?
- Attract a partner faster?
- Create healthy relationships of all kinds?
- Keep my love life sexy, fresh, and alive?
- Set better boundaries?
If you loved The Power of Now by Eckhart Tolle; A Return to Love by Marianne Williamson; The Way to Love by Anthony De Mello; or Love, Freedom, and Aloneness by Osho…
You will love Robert Mack's uplifting, encouraging, and all-embracing teaching in Love from the Inside Out.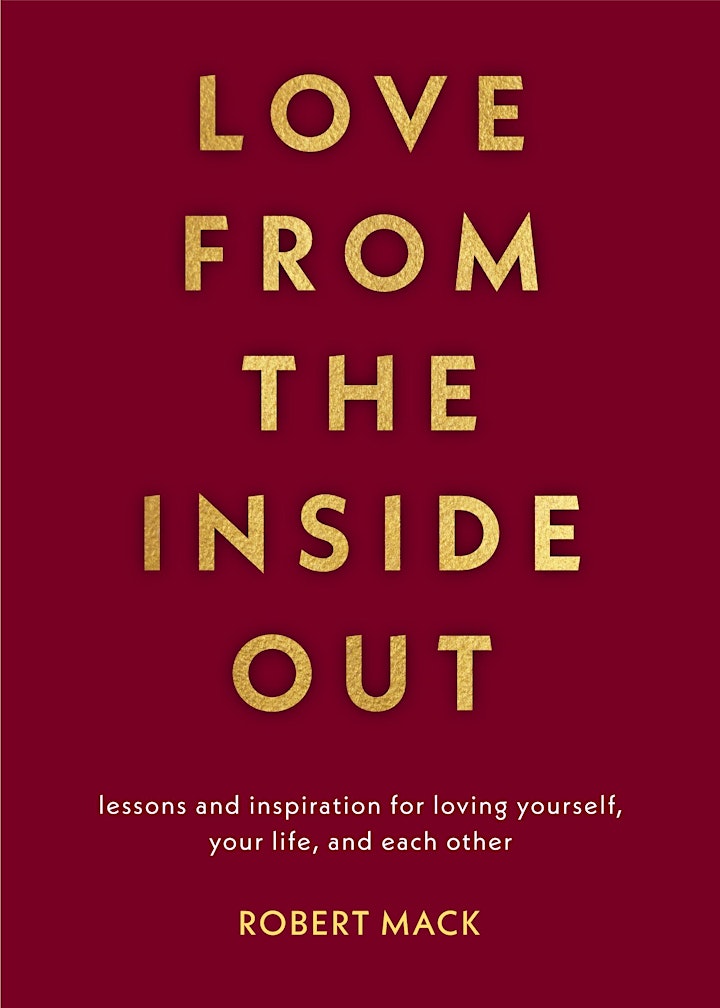 Ticket Guidelines:
GENERAL ADMISSION ( Free, no book): Registration for this ticket option admits (1) one person into the event but does NOT include a copy of the book.
__________________________________________________________________________
About the Author:
Robert Mack is an ivy-league-educated Positive Psychology Expert, Celebrity Happiness Coach, Executive Coach, and Published Author. Robert studied under the direction of Martin Seligman, the founder of Positive Psychology, at the University of Pennsylvania (UPenn). UPenn is the only institution in the world to offer a Masters Degree in Applied Positive Psychology. His work has been endorsed by Oprah, Vanessa Williams, and many others, and he ​has been seen on Good Morning America, The Today Show, Access Hollywood, E!, OWN, GQ, Self, Health, Cosmopolitan, and Glamour. Robert's first book, Happiness from the Inside Out: The Art and Science of Fulfillment (New Wold Library, 2009), is celebrity-endorsed and critically-acclaimed. It has been translated into various languages, including Chinese. Robert's most recent release, Love from the Inside Out: Lessons and Inspiration for Loving Yourself, Your Life, and Each Other, is published by Mango (2022).