Location
Books & Books
265 Aragon Avenue
Coral Gables, FL 33134
Pamela Wasabi join us in person at Books & Books to discuss THE WILD WOMAN and explore feminine and masculine polarities in spiritual growth
About this event
Books & Books is excited to present an afternoon with Pamela Wasabi as she discusses her book The Wild Woman: Nourishing the Feminine Soul (Celestial Publishing, $22.22). Pamela Wasabi is an author focused on personal development through the path of radical self-responsibility. She invites her readers to get curious and dive into the depths of themselves to discover the fascinating makeup of their emotional, psychological, and spiritual energies. Her discussions embrace themes such as the Divine Feminine and Sacred Masculine that reside in all of us, the dance between these polarities, and how our understanding of the same dictates our emotional intelligence and happiness.
Her latest book The Wild Woman is a direct invitation to reconnect with our feminine energy to heal the most important relationship in our lives: the one with ourselves. Pamela's next talk at Books & Books will emphasize this relationship with our feminine but also with our masculine. Her talk will highlight how this interaction with our polarities is the basis of our spiritual growth.
***Please note: This event will take place at the Books & Books in Coral Gables at 265 Aragon Ave. Tickets are FREE and books will be available for purchase at the event.
Please be aware that at this time, masks are still required inside for all our events by all patrons. Thank you for your cooperation.
About the Book:
The Wild Woman asserts a woman's Divine Feminine as the source of perpetual freedom, unconditional love, and transformative healing. The book discusses liberating the mind from the various doctrines and limiting belief systems that have been instilled in the feminine body through time. This book addresses food issues and eating disorders but also embraces themes of self-love and urges a radical sense of self-responsibility.
In the Wild Woman, author Pamela Wasabi encompasses a philosophy that compiles various pearls of wisdom of the world based on the principle of honoring the ever-creative feminine energy, the Mother source of life. These include the psychology of eating based on the teachings of Marc David, as well as the works of Alan Watts, Joseph Campbell, Carl Jung, and Clarissa Pinkola Estés.
Endorsements
"There is a special invitation in the symptoms of disordered eating, and The Wild Woman inspires the remembrance of why and how to reunite with the body, cherish your divine nature, and ultimately rescuing yourself."
- Kelly Brogan MD NY Times Bestselling author of A Mind of Your Own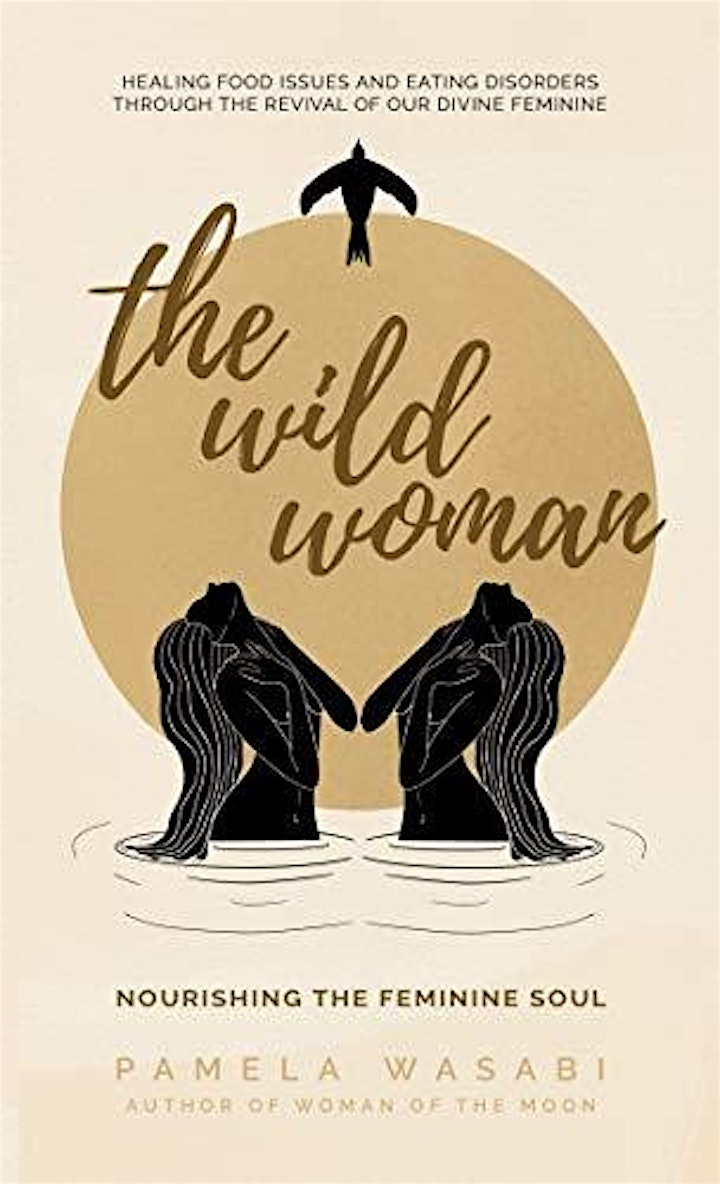 Ticket Guidelines:
GENERAL ADMISSION ( Free, no book): Registration for this ticket option admits (1) one person into the event but does NOT include a copy of the book.
_______________________________________________________________________________________________
Please be aware that at this time, masks are still required inside for all our events by all patrons. Thank you for your cooperation.
About the Author:
PAMELA WASABI is a food artist, entrepreneur, and author. She is the creator of Pamela Wasabi Bakery, a wholesale company that has established itself over the past five years among our community, pioneering in artisanal vegan and gluten-free products. Her company has scaled from servicing local coffee shops to fulfilling large-scale productions for hotels, local chains, supermarkets, and schools.
Wasabi's background is rooted in her philosophical upbringing and transformation, inspired after experiencing a chronic condition during her pregnancy. She birthed herself anew by resorting to food as medicine, and by making responsible and impactful lifestyle choices. Her experience comes from the studies of the psychology of eating, integrative nutrition, and plant-based artistry. She's also authored three books that speak of our relationship to food, our bodies, and our feminine energy.
Her debut book "Nourished, The Plant-based Path to Health and Happiness," explores our relationship with food and self. In January 2020 she published "Woman of the Moon" a poetry book filled with wild feminine prose proposing the liberation of the soul from the oppression imposed by the ego-mind. Her latest title "The Wild Woman" expands on women's food challenges and body image issues. She presents the healing solution through the connection, revival and balance of a woman's Divine Feminine energy.
It's her goal to wake the collective feminine and invite us to live our best lives.