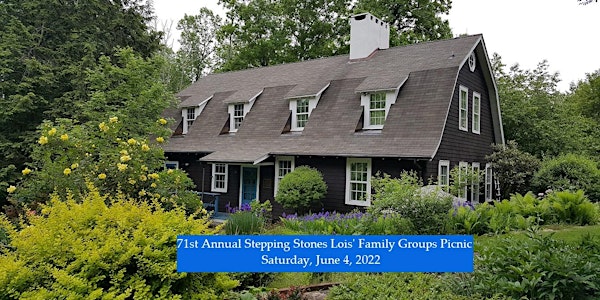 In-Person 71st Stepping Stones Lois' Family Groups Picnic Sat. 6/4/2022
Location
Stepping Stones Picnic Parking
Bedford Hills Train Station Commuter Lots
Railroad Avenue off Route 117
Bedford Hills, NY 10507
REGISTER TO ATTEND IN PERSON - 71st Annual Stepping Stones Lois' Family Groups Picnic with A.A., Alateen, and Al-Anon Speakers
About this event
Register here to attend the Picnic in person. Advance registration required.
71st Annual Stepping Stones Lois' Family Groups Picnic
71er Picnic Annual de Stepping Stones, Grupo de Familias de Lois
Saturday, June 4, 2022 / Sábado 4 de Junio de 2022
12 Noon to 5:00 p.m. Eastern (New York Time - U.S. & Canada)
For help, email office@steppingstones.org.
Indicate on your registration if you will require simultaneous Spanish translation of the speakers.
Free registration. Donations are encouraged to make the event self-supporting and to support the organizer Stepping Stones, the historic home and archive of Bill & Lois Wilson in New York.
Please register each person in advance as registration is not available at check in at the event.
ALL WHO DONATE OR BUY MERCHANDISE ARE ENTERED FOR A CHANCE TO WIN HANDMADE "SERENITY" PILLOWS (SCROLL DOWN TO SEE THE PILLOWS.)
Preliminary Schedule (Times are Eastern Time Zone U.S. & Canada):
Noon to 5 p.m. Shuttles Run to Picnic location from Parking at the Bedford Hills Train Station, Commuter Lots at 1 Railroad Ave., Bedford Hills, NY
Noon to 2 p.m. & 4-4:45 p.m. View the Wilson's Home and Bill W.'s Writing Studio, explore the Gift Shop and Welcome Center display based on the Stepping Stones Archive, fellowship, picnic (bring your own lunch; we supply water and soft drinks)
2:00-4:00 p.m. Speakers - Alateen, Alcoholics Anonymous, & Al-Anon Family Groups (10-30 minutes each)
4:30 p.m. Event Ends (Last Shuttle from Picnic Site to Parking is 4:45 p.m.)
INSTRUCTIONS:
CLICK "REGISTER"
SELECT "1" REGISTRATION & MAKE OTHER SELECTIONS
CLICK BUTTON AT BOTTOM FOR "CHECKOUT" / "REGISTER"
FILL IN ALL REQUIRED FIELDS TO MAKE THE "CHECKOUT/REGISTER" BUTTON BECOME RED AND CLICKABLE
FIND AND BRING WITH YOU TO THE EVENT CHECK IN THE REGISTRATION TICKET (NOT DONATION RECEIPT) ATTACHED TO YOUR CONFIRMATION EMAIL IN YOUR EMAIL INBOX & SPAM / JUNK / GMAIL PROMOTIONS FOLDER (Check your spam/junk/promotions folder for the email. If you do not find it, email office@steppingstones.org with you full contact information for assistance.)
Each ticket has a unique barcode and may not be transferred. Please encourage friends to register to receive their own unique barcoded ticket.
NO RECORDING: By completing this registration you agree NOT TO RECORD, PHOTOGRAPH, POST, PUBLISH OR DISTRIBUTE any part of the event. To borrow material for a project, email archive@steppingstones.org.
REGISTRATION HELP: Email your full name, email, mail address, and phone number to office@steppingstones.org or visit@steppingstones.org
To make sure you receive our emails, add "steppingstones.org" and "eventbrite.com" to your safe sender domain list and address book.
Merchandise
Product Add-Ons to Your Event Registration: U.S. residents may select products with their registration, but international orders must be made by emailing visit@steppingstones.org or calling 914-232-4822. All sales are final; supply chain issues and the pandemic may impact shipping / timing, which is at the lowest available US Postage rate. Products may be sent following the event. When applicable, indicate size and color of product. If you plan to watch the event you must select "1" for Registration in addition to the product selection or any donations you make.
Please do not place international orders when registering. International merchandise orders must be made by emailing visit@steppingstones.org or calling 914-232-4822.
Organizer: Stepping Stones, the historic home and archives of Alcoholics Anonymous Cofounder Bill Wilson and Al-Anon Family Groups Cofounder Lois Wilson in Katonah, New York, is a wholly separate, non-profit, tax-exempt organization.
Supporting Stepping Stones: Donations are welcomed to support Stepping Stones Foundation's work to operate, maintain, and preserve the buildings, grounds, objects, and archives of Bill and Lois. The Stepping Stones Foundation (Federal I.D. #13-3031164) is a tax-exempt 501(c)3 nonprofit Private Operating Foundation that accepts contributions of any amount. Gifts are tax-deductible to the extent provided by U.S. Law. Please make checks payable to "Stepping Stones Foundation." Donate when registering or mail checks to "Stepping Stones Foundation, P.O. Box 452, Bedford Hills, NY 10507" or phone (Mon.-Sat. 9 a.m.-5 p.m.) 914-232-4822.
Website: https://www.steppingstones.org/
Para el evento en persona, por favor traiga su comida para el picnic y una silla de ser necesario. Y use zapatos que le sean cómodos. Tendremos una carpa en caso de lluvia. Los transportes desde el estacionamiento en la estación de tren comenzarán a las 12 del mediodía y correran hasta las 5pm. La reunión comenzara a las 2pm. y consistira de oradores de AA, Alateen y Al-Anon. Traducción simultánea  sera provista. La casa, el esstudio y, el centro de bienvenida permanecerán abiertos desde las 12pm a las 2pm y desde las 4pm a las 4:45pm.
Photos & Text: All content on this event website and live content during the event is copyright 2022 The Stepping Stones Foundation. Permission is required for further use. Images: ABOVE - Home of the Wilsons from 1941 until their deaths in 1971 and1988, Katonah, NY; BELOW - (1) "Serenity" pillows made by Linda V. for raffle; (2) Bill Wilson's writing studio "Wit's End" at Stepping Stones, and (3) Stepping Stones Wilson sign after Bill W.'s original design in Lois' signature blue. All pictures by Sally Corbett-Turco. All rights reserved. For permission to use images, email archive@steppingstones.org