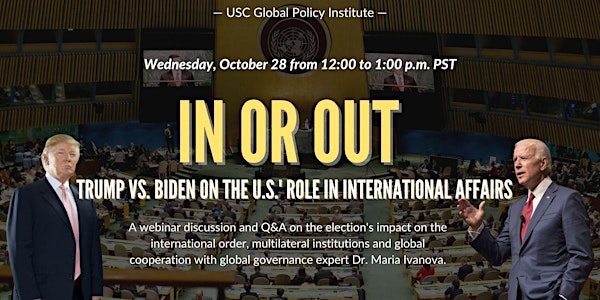 In or Out: Trump vs. Biden on the U.S.' Role in International Affairs
Join the USC Global Policy Institute for another installment of our 2020 election series.
About this event
We are excited to continue our 2020 Election Series with our next event: "In or Out: Trump vs Biden on the US' Role in International Affairs."
Join us on Wednesday, October 28th from 12:00 p.m. to 1:00 p.m. PST for this webinar and Q&A of the United States' role in global institutions and in the international order under a Trump or Biden presidency.
We are excited to be joined in conversation by Dr. Maria Ivanova, associate professor of Global Governance and director of the PhD Program in Global Governance and Human Security at University of Massachusetts, Boston. Dr. Maria Ivanova is a leading expert on global governance and the environment, and holds two M.A.s and a PhD from Yale University.
Zoom link: https://usc.zoom.us/j/94413741609?pwd=UndzV1VOcU5CQ2wrd01lNkNIQkY3UT09
The Zoom link can also be found in your confirmation email.
We hope to 'see' you on Wednesday!