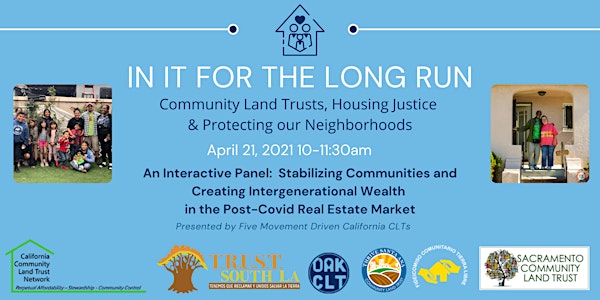 In it for the Long Run: Community Land Trusts and Housing Justice
Una mesa interactiva presentado por cinco fideicomisos comunitarios de California/an interactive panel presented by five California CLTs
About this event
Resident-driven community land trusts (CLTs) from across the state are convening philanthropists, statewide partners, and policy-makers to join a re-energized movement calling for community stewardship of land and housing. Building off of success in Oakland, Los Angeles, Santa Ana, and Sacramento, California CLTs are inviting fellow grassroots organizations and funders to strengthen the growing CLT ecosystem, to create viable and creative solutions to post-Covid housing challenges.
Based on a year of collaborative work, the five movement-driven CLTs will present the report, "Increasing Community Power and Health through Community Land Trusts," which outlines key opportunities and successes in the field; and will hold an interactive panel with philanthropic, financing and organizing and CLT representatives.
Los fideicomisos comunitarios de tierras (CLT) impulsados por residentes de todo el estado están convocando a filántropos, socios estatales y legisladores para unirse a un movimiento revitalizado que está luchando por el control comunitario de la vivienda y tierra. Aprovechando el éxito en Oakland, Los Ángeles, Santa Ana y Sacramento, los CLT de California están invitando a organizaciones de base y donantes a apoyar el crecimiento de el ecosistema de CLTs, para crear soluciones viables y creativas a los retos de vivienda durante el periodo posteriores de Covid .
Basado en un año de trabajo colaborativo, los cinco CLT impulsados por movimientos presentarán el informe, "Increasing Community Power and Health through Community Land Trusts," que describe los oportunidades clave y los éxitos; y llevará a cabo un panel interactivo con representantes filantrópicos, financieros y organizativos y CLT.