Description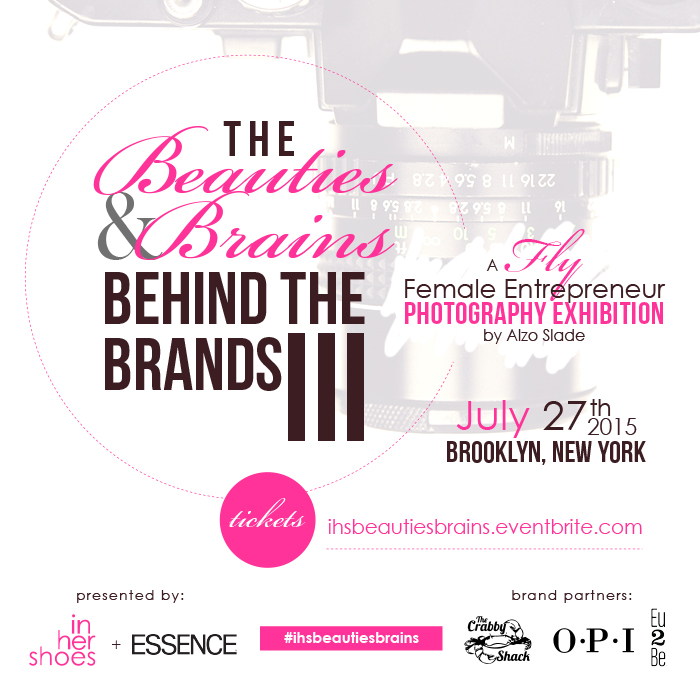 Influential women's entrepreneurship blog In Her Shoes proudly presents The Beauties & Brains Behind the Brands III. This year's installation of the increasingly popular event series is presented by ESSENCE Magazine and comes to life as a must-see New York City photography exhibition by Alzo Slade. In Her Shoes hand picked 25 "fly female entrepreneurs" to be featured in the celebratory exhibition:
Ashaka Givens: Fashion Designer
Ashunta Sheriff: Celebrity Makeup Artist
Damali Elliott: Petals-n-Belles
Demetria Lucas D'Oyley: A Belle in Brooklyn, "Blood, Sweat & Heels"
DJ C. Devone: DJ
Elisa Shankle: 5N1 Design
Fifi Bell Clanton: The Crabby Shack
Gwendolyn Niles: The Crabby Shack
H. Ginger Johnson: Ginger & Liz
Jodie Patterson: Doo Bop Beauty
Kai Avent-deLeon: Sincerely, Tommy
Kela Walker: Kela's Closet
Lita Lewis: Trainer + Fitness Personality
Lorraine West: Jewelry Designer + Metalsmith
Lyani Powers: 5n1 Design
Malene Barnett: Malene B. Carpets
Miko Branch: Miss Jessie's
Nadia Lopez: Mott Hall Bridges Academy
Renae Bluitt: In Her Shoes & Crush Media
Sara Liz Picket: Ginger + Liz
Somi: Singer/Songwriter
Tai Beauchamp: The Tai Life, "Dare to Wear"
Tonya Rapley: My Fab Finance
Tricia Lee: Polish Bar
Ursula Stephen: Celebrity Hair Stylist & Ursula Stephen the Salon
Each woman was photographed in her element, giving us a sneak peek into her coveted life as a fly female entrepreneur. Join an engaging conversation about the power of entrepreneurship with Renae Bluitt (Creator, In Her Shoes), Alzo Slade (Project Photographer), Pamela Edwards Christiani (Beauty & Style Director, ESSENCE Magazine), Miko Branch (Co-Founder, Miss Jessie's) and Tai Beauchamp (The Tai Life, "Dare to Wear").
Guests are invited to shop the In Her Shoes Marketplace, where brands will have an opportunity to market and sell their products. Brand partners for this year's event include: ESSENCE (Presenting Sponsor), Eu2Be (Platinum Sponsor), OPI (Platinum Sponsor) and The Crabby Shack (official caterer).
For additional information, please visit www.inhershoesblog.com.