Description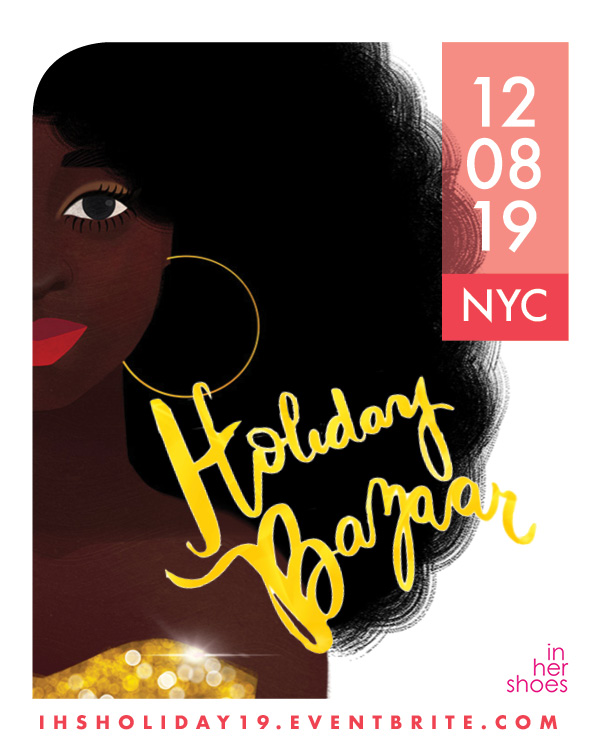 Renae Bluitt presents the 2019 In Her Shoes Holiday Bazaar! Showcasing Black woman-owned brands that have been featured in the coveted In Her Shoes Holiday Shopping Guide, this sold out event will give guests an opportunity to support and connect with businesses they know and love while getting ahead of the holiday rush.
While we shop, we'll be raising our glasses to celebrate Black women entrepreneurs with McBride Sisters Collection - a wine brand that was created by two sisters (literally and figuratively) with LOVE! It's going to be a beautiful day of shopping, fellowship, and sisterhood with over 30 dope brands you won't want to miss:
2019 IN HER SHOES HOLIDAY BAZAAR MERCHANTS:
Adjourn Teahouse
Adorn New York
African Health Now
Ashaka Givens
Avid Swim
BCakeNY
Boss Blend Coffee
Bossy Cosmetics
Brooklyn Bleau
Brunchnista
CeeCee's Closet NYC
Destiny's Cache
Effie's Paper
Elegant Eyes
Emijaa Jaaemil Co.
Eve Milan
Hey Friend
House of Nambili
Hyper Skin
Indigo Style Vintage
Jam & Rico
Jones and Rose
Kami Cosmetics
Kebero
Laid Headwear
LIT Brooklyn
McBrides Sisters Collection
Mel's Butter Blends
NIGELLA COLLECTION 1, AFRA
Mess in a Bottle
Rhyme Antics
She Did That.
She Got The Juice
Taylor Beauty Brands
The Sable Collective
UNWRP
Urban Hydration