Description
Alcomar is proud to announce "In Good Company" – a dinner series featuring Chef Alma Alcocer-Thomas's & Chef Jeff Martinez's favorite local vendors.

The second installment highlights East Austin's Boggy Creek Farm and takes place at Alcomar on Tuesday, June 20 at 7:30PM. The four-course dinner will spotlight fresh produce from the farm, paired with unique cocktails and boutique wines. Each ticket is $65 and includes four courses, four pairings, tax and gratuity. Dinner will begin promptly at 7:30PM.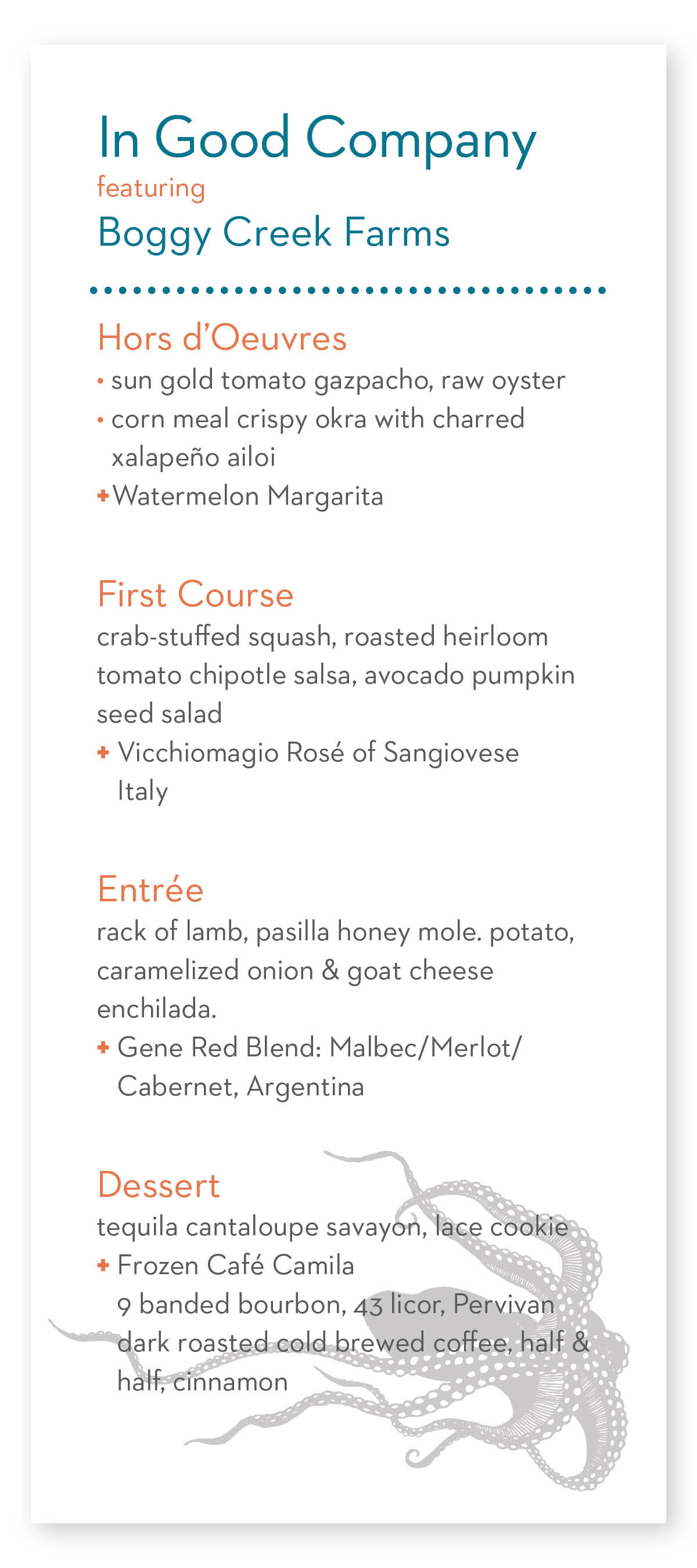 Boggy Creek Farm got it its start in 1991 selling produce at a farm stand in Austin, Texas – and to the original Whole Foods Market. Now with two farms – one in Gause, a little over an hour outside of Austin, and one just 2.5 miles from the state capital – Carol Ann Sayle, and her husband and farming partner, Larry Butler, sell their fresh produce at the farm stand on their urban farm in East Austin. (-Chris Blanchard, Farmer to Farmer Podcast)
In addition to gorgeous and tasty veggies, fruits, and fresh eggs, they sell locally produced honey, yogurt, goat's milk, and meats, as well as chocolate, sauces, books, and more. They also offer produce grown on other local organic farms, so that you can always choose from the freshest and largest variety of seasonal produce. During the year, Boggy Creek grows more than 100 kinds of vegetables and fruits. (-Meredith O'Riley, Great Stems)
Read more here: http://www.edibleaustin.com/index.php/people1/82-farmers/1035-boggy-creek-farm
Future dates and partners confirmed for the series are May 23 with Tequila 512. Each vendor will enjoy the dinner in the good company of our guests and talk with them about their business, their philosphpy and the passion they have for their products. Patrons are invited to engage them in conversation learn more about where the food they're eating comes from.


Follow Alcomar on social media for regular updates.


Facebook - facebook.com/AlcomarATX
Instagram @alcomar_atx
Twitter @alcomar_atx
Website - alcomaratx.com