Description
On Tuesday, May 23rd Alcomar's co-executive chefs will present the third chapter of "In Good Company" - a dinner series featuring Alma Alcocer & Jeff Martinez's favorite local vendors.
The upcoming installment features Tequila 512 and takes please at Alcomar on Tuesday, May 23rd at 7:30PM. Guests will share a table with Tequila 512 Founder Scott Willis, eat side by side, and enjoy an evening of Mexican Seafood paired with unique tequila cocktails.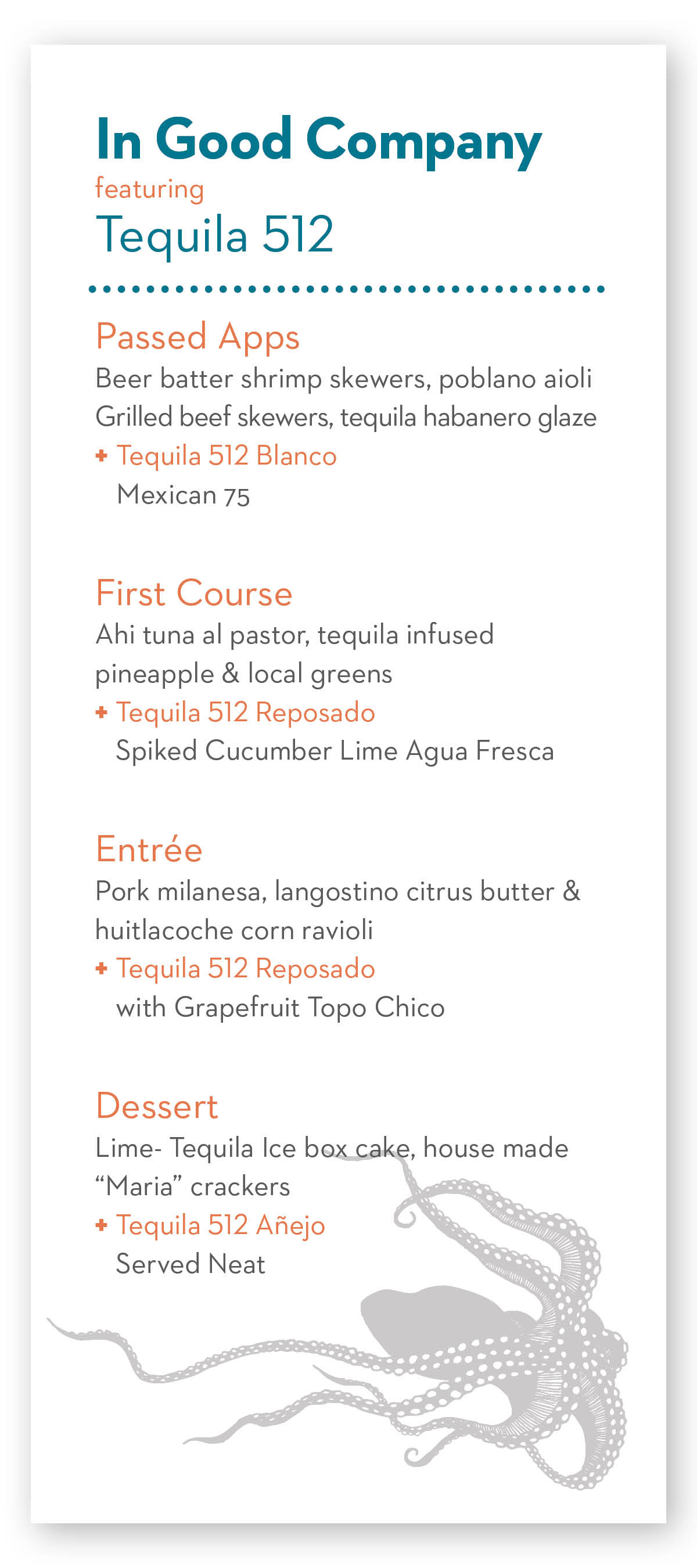 Each ticket is $65 and includes four courses, four pairings, tax and gratuity. Dinner will begin promptly at 7:30PM.Patrons are invited to engage Scott in conversation, learn about about the history of his business, and hear about the passion he has for his award-winning products.
"Tequila 512 is a lot of work, Scott Willis says. Even though he lives in Austin and doesn't actually make the tequila himself, he's still very involved in the process. 'Be honest about it,' he says. 'That's what I've always said. 'We use a distillery that produces other great tequilas. They also produce mine to my specifications.' I go down there for all the bottlings, I go down there to make sure it's my product, I go down there to taste the profile throughout the process.'
The reposado, in particular, took some time: Tequila 512's blanco matured for nine months in used bourbon barrels, a bit of a long aging period for a reposado. It didn't taste just right until then, he says.
That attention to detail suggests partly how his underdog blanco tequila did so well in the San Francisco World Spirits Competition. 'I set out asking whether we could make a tequila that was really good and not super expensive, and that (win) shows, yes, you can,' he says." (Ariana Auber, Austin American Statesman)
Future dates and partners confirmed for the series are June 20 with Boggy Creek. Each vendor will enjoy the dinner in the good company of our guests and talk with them about their business, their philosphpy and the passion they have for their products. Patrons are invited to engage them in conversation learn more about where the food they're eating comes from.


Follow Alcomar on social media for regular updates.

Facebook - facebook.com/AlcomarATX
Instagram @alcomar_atx
Twitter @alcomar_atx
Website - alcomaratx.com