In-Depth Seminar on Muscular Portfolios — Brian Livingston

Sunday, November 18, 2018 from 11:00 AM to 5:00 PM (PST)
Event Details
The In-Depth Seminar is Part 2 of a 2-part event by Brian Livingston:
SAT., NOV. 17 — Part 1 — Seminar on Muscular Portfolios at AAII
• No fixed fee. Only a donation to AAII is required (100% goes to AAII).
• 9:45 a.m.–12:30 p.m. (2 hrs. with break)
• MICEC, 8236 SE 24th St., Mercer Island, WA
You must preregister for the Part 1 Seminar at:
https://aaiips.eventbrite.com

SUN., NOV. 18 — Part 2 — In-Depth Seminar on Muscular Portfolios
• $199 per person.
• 11:00 a.m.–5:00 p.m. (6 hrs. with breaks and no-host lunch)
• Hotel 116 by Coast Hotels, 625 - 116th Ave. NE, Bellevue, WA
• No-host lunch at Woods Café, Whole Foods, and other adjacent restaurants.
You must preregister for the Part 2 In-Depth Seminar on the current Web page.
WHAT'S THE DIFFERENCE BETWEEN THE TWO SEMINARS?
You will learn a lot at the Part 1 Seminar, but you will learn everything about how to make your portfolio muscular at the Part 2 In-Depth Seminar. The seminars are self-contained — you will benefit by attending either one or both — but you will learn the most by attending both.

WHAT WILL BE TAUGHT?
For decades, the financial services industry has sold risky investments, claiming that greater risk was the only path to greater gains. But high-risk strategies are vulnerable to huge losses that can devastate your portfolio.
Today, there's a better approach. Brian Livingston's new book Muscular Portfolios reveals the latest scientific evidence behind what experts call the Index Investing Revolution. In addition, MuscularPortfolios.com is the first website to give away Wall Street's secret buy-and-sell orders of low-cost index funds.

TO DO BEFORE THE SEMINAR
1. Get the free newsletter and
2. Order the book Muscular Portfolios at:
    https://MuscularPortfolios.com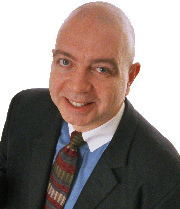 ABOUT THE PRESENTER

Brian Livingston is a successful dot-com entrepreneur and an award-winning business and technology journalist.
From 1984 through 1991 in New York City, he was the assistant information technology manager of UBS Securities, a computer consultant for Morgan Guaranty Trust Co. (now JPMorgan Chase), and technology adviser to Lazard Frères. He wrote more than 1,000 articles from 1991 through 2010 for such publications as PC World, CNET, InfoWorld, E-Business Secrets, PC Mag, and eWeek.
He founded the Windows Secrets Newsletter in 2003, which grew to 400,000 subscribers before he sold the WindowsSecrets.com website in 2010. He authored or coauthored 11 books in the Windows Secrets series (John Wiley & Sons) from 1991 through 2007, which sold more than 2.5 million copies.
Refunds
Email us at least 24 hours before the event, and you will receive a full refund.
When & Where

Hotel 116 by Coast Hotels
625 - 116th Ave. NE
Bellevue, WA 98004


Sunday, November 18, 2018 from 11:00 AM to 5:00 PM (PST)
Add to my calendar
Organizer
Brian Livingston is the author of "Muscular Portfolios" and the author or co-author of 11 books in the Windows Secrets series.