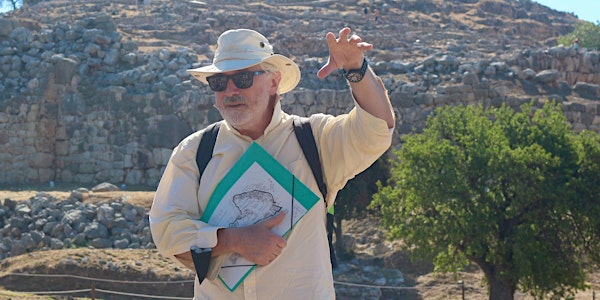 In Conversation with Prof. John Bennet (University of Sheffield)
Concluding our events for 2022, we invite members & supporters to attend a discussion about the work of the British School at Athens.
When and where
Location
The Hellenic Centre 16-18 Paddington Street London W1U 5AS United Kingdom
About this event
Our chair, John Kittmer, will be in conversation with Prof. John Bennet. From October 2015 to September 2022, Prof. Bennet was Director of the British School at Athens. He has subsequently returned to his post as Professor of Aegean Archaeology at the University of Sheffield at the end of his seven years in Greece. His research interests lie in early writing and administrative systems (especially Linear B), and the integration of material and textual data to understand societies and landscapes in the distant and more recent past.
Prof. Bennet's recent edited books include: Archaeology and the Homeric Epic, co-edited with Susan Sherratt (2016), and Representations: Material and Immaterial Modes of Communication in the Bronze Age Aegean (2021). Over his career, he has taught at the Universities of Cambridge, Wisconsin–Madison USA, Oxford and Sheffield.
This event will take place in person only; there will be no live broadcast or recording. Q&A will follow the discussion. A wine reception will conclude the evening. Places will be allocated on a first come, first served basis. To attend you must register in advance.