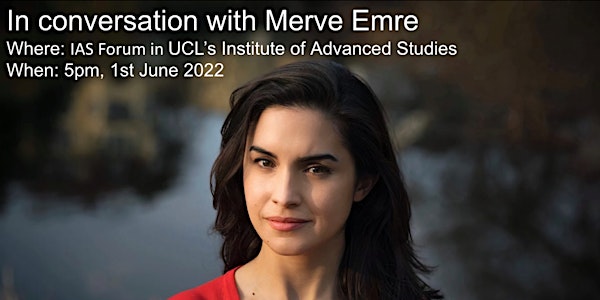 In Conversation with Merve Emre
Location
IAS Forum, G17, ground floor, South Wing, UCL, Gower St, London WC1E 6BT
Gower Street
London
WC1E 6BT
United Kingdom
Join us for an evening of conversation with Merve Emre.
About this event
During this event Merve Emre will be interviewed by Sarah Edwards, a PhD candidate at UCL studying contemporary feminist essays, about her upcoming book titled Post-Discipline: Literature, Professionalism, and the Crisis of the Humanities. While the Crisis of the Humanities will be the focus of this event, the interview will also touch on Emre's career as a whole, making reference to her earlier works such as The Annotated Mrs Dalloway (2021), Paraliterary: The Making of Bad Readers in Postwar America (2017), her book reviews, and her writing about contemporary essays.
The Institute of Advanced Studies is situated in the beautiful and historic Wilkins Building on the UCL Bloomsbury Campus and can be accessed via Gower Street.