Location
Queen Victoria Women's Centre Trust
210 Lonsdale Street
Melbourne, VIC 3000
Australia
Sales Have Ended
Ticket sales have ended
Thankyou for supporting our event. If you can't make the event consider gifting the ticket onto some else. We are looking forward to seeing you. Anita's book will be available for purchase on the day and she will be also available for signing.
Join Anita discussing Am I Black Enough for You? 10 years on .
About this event
Dr Anita Heiss is an award-winning author of non-fiction, historical fiction, commercial women's fiction, children's novels and blogs. She is a proud member of the Wiradjuri Nation of central New South Wales, an Ambassador for the Indigenous Literacy Foundation, the GO Foundation and Worawa Aboriginal College. Anita is a board member of University of Queensland Press and Circa Contemporary Circus, and is a Professor of Communications at the University of Queensland. As artist in residence at La Boite Theatre in 2020, Anita began adapting her novel Tiddas (S&S, 2014) for the stage. Her novel Barbed Wire and Cherry Blossoms (S&S 2016) set in Cowra during World War II, was the 2020 University of Canberra Book of the Year. Anita enjoys eating chocolate, running and being a 'creative disruptor'.
GET YOUR COPY OF ANITA'S BOOK ON THE DAY! Anita's books will be for sale on the day and she will be available for book signing. Buy one for yourself and one for a friend. Readings Book Store will also have other books for sale by First Nations authors
Lunch provided by the Moroccan Soup Bar This a community event money from ticket sales will go to support Aboriginal organisations. Discounted tickets for First Nations People.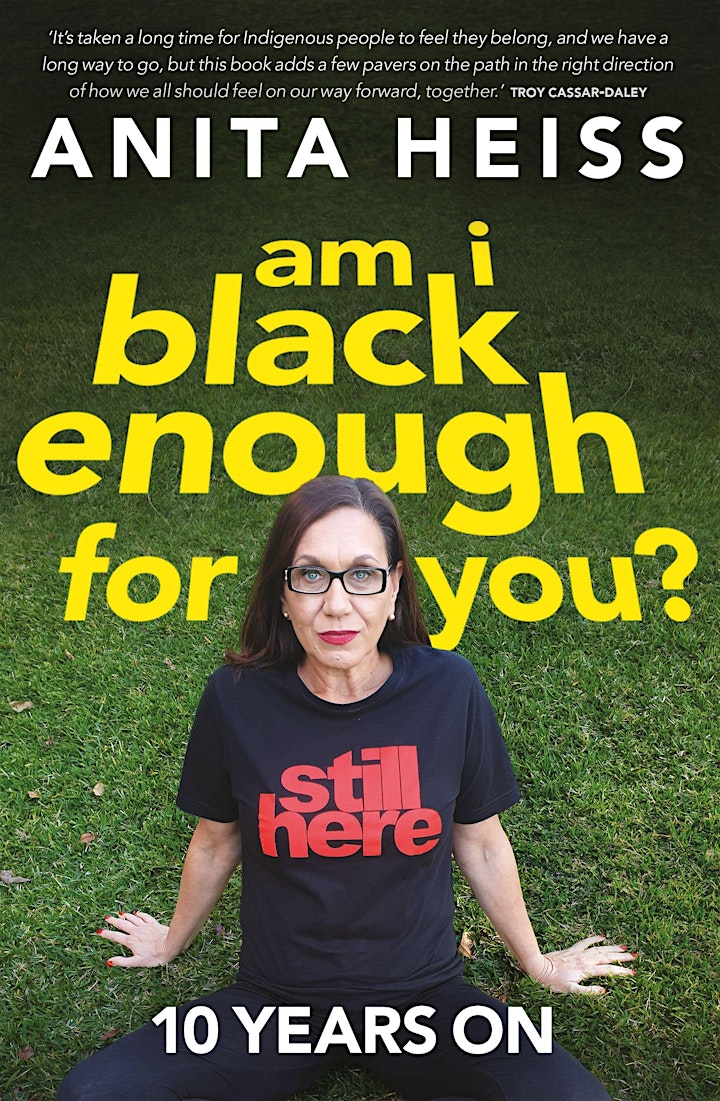 Winner of the Vic Premier's Award for Indigenous Writing
The story of an urban-based high achieving Aboriginal woman working to break down stereotypes and build bridges between black and white Australia.
I'm Aboriginal. I'm just not the Aboriginal person a lot of people want or expect me to be. What does it mean to be Aboriginal? Why is Australia so obsessed with notions of identity?Anita Heiss, successful author and passionate campaigner for Aboriginal literacy, was born a member of the Wiradjuri nation of central New South Wales, but was raised in the suburbs of Sydney and educated at the local Catholic school. She is Aboriginal - however, this does not mean she likes to go barefoot and, please, don't ask her to camp in the desert.
After years of stereotyping Aboriginal Australians as either settlement dwellers or rioters in Redfern, the Australian media have discovered a new crime to charge them with: being too 'fair-skinned' to be an Australian Aboriginal. Such accusations led to Anita's involvement in one of the most important and sensational Australian legal decisions of the 21st-century when she joined others in charging a newspaper columnist with breaching the Racial Discrimination Act. He was found guilty, and the repercussions continue.
In this deeply personal memoir, told in her distinctive, wry style, Anita Heiss gives a first-hand account of her experiences as a woman with an Aboriginal mother and Austrian father, and explains the development of her activist consciousness. Read her story and ask: what does it take for someone to be black enough for you?
REVIEW
by Chris Gordon, Readings Carlton
There are many reasons to like the writing of Anita Heiss. She's funny in a dry, laconic way, she's a straight talker – there are no frills here – and she's passionate about her topic of racial relationships. Dr Heiss's book is a personal account of being herself in a country that seems obsessed with stereotyping. She was born a member of the Wiradjuri nation of central NSW but grew up in Sydney with her Aboriginal mother and her Austrian father. She considers Sydney her home. To be honest you could not get someone more urban than Heiss!
Reading about her life can make you feel a tad inadequate. Dr Heiss is an academic, author and activist. She was one of the drivers behind one of the most important legal decisions of our time when she joined others in charging newspaper columnist Andrew Bolt successfully with breaching the Racial Discrimination Act. This event is recorded here and shows the great support and community Heiss has around her.
Despite her vast achievements, Heiss rightly feels we have some way to go before acceptance is achieved. Her book is an offering of greater appreciation of what it's like to be an Aboriginal. I particularly enjoyed the chapter titled 'If you are a black woman you should …' where she lists all the assumed positions that people expect from her and knocks them over! Clearly these facts need to be told.
Heiss' book is informative, personal and accessible. It serves well as a myth-breaker and also a style of political memoir. Every high school in Australia should be ensuring this book is on its curriculum.
Christine Gordon is the Events Coordinator for Readings and is a committee member of The Stella Prize.