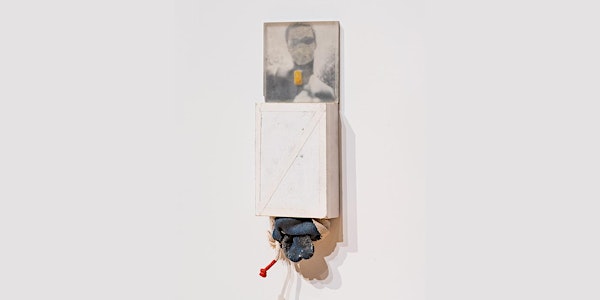 In Conversation | Troy Montes Michie and Catherine S. Ramírez
Join Troy Montes Michie and Dr. Catherine S. Ramírez for a discussion related to the exhibition, Troy Montes Michie: Rock of Eye.
When and where
Location
Contemporary Arts Museum Houston 5216 Montrose Blvd. Houston, TX 77006
About this event
Ticket Information
RSVPs via Eventbrite are encouraged as seats are limited. Advance tickets will be made available to CAMH members at an early date, while the remaining tickets will be made available to the public on Monday, September 5, 2022 at 11AM CST.
Safety and Accessibility
Please review CAMH's safety protocols here. Seating will be socially distanced and masks are encouraged to be worn throughout the event. If there are questions or concerns regarding safety or accessibility, please contact ytorres@camh.org.
About Troy Montes Michie
Through assemblage and juxtaposition, Troy Montes Michie (b. 1985) engages Black consciousness, Latinx experience, immigration and queerness. Utilizing textiles, garments and archival paper, from newsprint to pornography, Montes Michie subverts dominant narratives by placing past and present in confrontation. Through his use of contrast patterning, a technique of camouflage, Montes Michie investigates the ways in which bodies of marginalized communities are frequently erased and fetishized. Montes Michie holds a BFA from the University of Texas at El Paso and an MFA from Yale School of Art. His works have recently been included in exhibitions at the Institute for Contemporary Art at VCU (Richmond), The MAC (Belfast), The Shed (New York), The Whitney Museum of American Art (New York), and Contemporary Arts Museum Houston. He is currently a Lecturer of Visual Arts in Program at Princeton University (New Jersey).
About Dr. Catherine S. Ramírez
Catherine S. Ramírez, Professor and Chair of Latin American and Latino Studies at the University of California, Santa Cruz, is a scholar of Latinx literature, visual culture, history, and performance; feminist, gender, and sexuality studies; comparative ethnic studies; migration; and speculative fiction. She is the author of Assimilation: An Alternative History, The Woman in the Zoot Suit: Gender, Nationalism, and the Cultural Politics of Memory (Duke University Press, 2020), and several essays on science fiction, race, gender, and futurity. She is a co-editor of Precarity and Belonging: Labor, Migration, and Noncitizenship (Rutgers University Press, 2021) and has written for The New York Times, The Atlantic, Public Books, and Boom California. In addition to being awarded UC Santa Cruz's Excellence in Teaching Award, she has been awarded grants and fellowships from the Andrew W. Mellon Foundation, the Ford Foundation, and the Center for Advanced Study in the Behavioral Sciences at Stanford University. A first-generation college graduate, she holds a PhD in Ethnic Studies from the University of California, Berkeley.