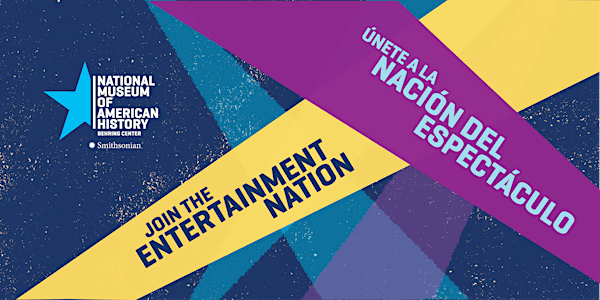 In Conversation: The Impact of Sesame Street
En conversación: el impacto de Plaza Sésamo
When and where
Location
National Museum of American History 1300 Constitution Ave NW Washington, DC 20013
About this event
Sesame Street is one of the best-loved children's television series of all time, but also one of the most revolutionary. In using television to teach, Sesame's creators and performers have particularly sought to reach children from minority backgrounds and lower-income families lacking access to educational materials. Join Sesame Workshop's Akimi Gibson, Rosita puppeteer/performer Carmen Osbahr, and cast member Alan Muraoka for a discussion of Sesame Street's history and mission to represent and reach all young learners, especially those who have traditionally been underrepresented in children's television.
Seating is limited and reservations are recommended. Seating will be opened first to Eventbrite-registered attendees and then to walk-in visitors. When we reach maximum capacity, the event will be closed to the public.
The National Museum of American History welcomes visitors of all ages and abilities. This event is wheelchair accessible. ASL services, real-time captioning in English and in Spanish, and assistive listening devices will be provided. Additional accommodations are available upon request; please email nmahprograms@si.edu. Two weeks' notice is preferred.
-----------------------------------------------
Plaza Sésamo es una de las series de televisión infantiles más queridas de todos los tiempos, pero también una de las más revolucionarias. Al utilizar la televisión para enseñar, los creadores y actores de Plaza Sésamo han buscado especialmente llegar a los niños pertenecientes a grupos minoritarios y a familias de bajos ingresos que carecen de acceso a materiales educativos. Acompaña a Akimi Gibson de Sesame Workshop, a la titiritera e intérprete de Rosita, Carmen Osbahr, y al miembro del elenco, Alan Muraoka, para tener una plática sobre la historia y la misión de Plaza Sésamo de representar y llegar a todos los jóvenes estudiantes, especialmente a aquellos que tradicionalmente han estado subrepresentados en la televisión para niños.
El cupo es limitado y se recomienda reservar. Los asientos se abrirán primero para los asistentes registrados en Eventbrite y luego para los visitantes sin registro. Cuando alcancemos la capacidad máxima, el evento se cerrará al público.
El Museo Nacional de Historia Estadounidense da la bienvenida a visitantes de todas las edades y habilidades. Se puede acceder a este evento en sillas de ruedas. Se proporcionarán servicios de lengua de señas, subtítulos en inglés y en español en tiempo real, y dispositivos de asistencia auditiva. Hay adaptaciones adicionales disponibles bajo pedido; por favor envía un correo a nmahprograms@si.edu con dos semanas de anticipación.