Join Helen Thomas in conversation with Prof Mike Collier and Dr Judith Tucker as they discuss Helen's project Dandelions and Double Yellows
About this event
About this event
Join Helen Thomas in conversation with Prof Mike Collier and Dr Judith Tucker as they discuss Helen's project 'Dandelions and Double Yellows'.
Dandelions and Double Yellows is an art, nature and noticing project. This 'walk and talk' event will take place in person at Wakefield Cathedral to coincide with Helen's exhibition of site responsive paintings, which are informed by observation and memory of urban wildflowers.
The Cathedral will be open before the event for attendees to view the exhibition.
Dandelions and Double Yellows is supported using public funding by Arts Council England. The project and exhibition has been part funded as part of Festival of the Earth, led by Wakefield Council.
Speaker Bios
Prof Mike Collier is a lecturer, writer, curator and artist. He co-founded WALK (Walking, Art, Landscape and Knowledge), a research centre at the University of Sunderland which looks at the way we creatively engage with the world as we walk through it. Much of his work is place-specific, exploring our relationship to a 'more than human' world, paying close attention to the environment through which he walks. His current work focuses around an exploration of the dawn chorus, working with composer/musician Dr Bennett Hogg and natural history sound recordist Geoff Sample of Wildsong.
Website: mikecollier.co.uk
Judith Tucker
Judith Tucker's work explores the meeting of social history, personal memory and geography; it investigates their relationship through drawing, painting and writing. She is an invited artist in Contemporary British Painting a platform for contemporary painting in the UK. She is currently vice-chair of the organisation. She co-convenes the networks Land2 and Mapping Spectral Traces. When she is not in her studio, she is Senior Lecturer in the School of Design at the University of Leeds. She has a long-term collaboration with the poet Harriet Tarlo.
Website: judithtuckerartist.com
Helen Thomas
Helen Thomas explores themes of plants and place through drawing and painting. Helen's project 'Dandelions and Double Yellows' is an invitation to reconsider the often overlooked, unplanned plants in our everyday surroundings.
Website: toastedorange.co.uk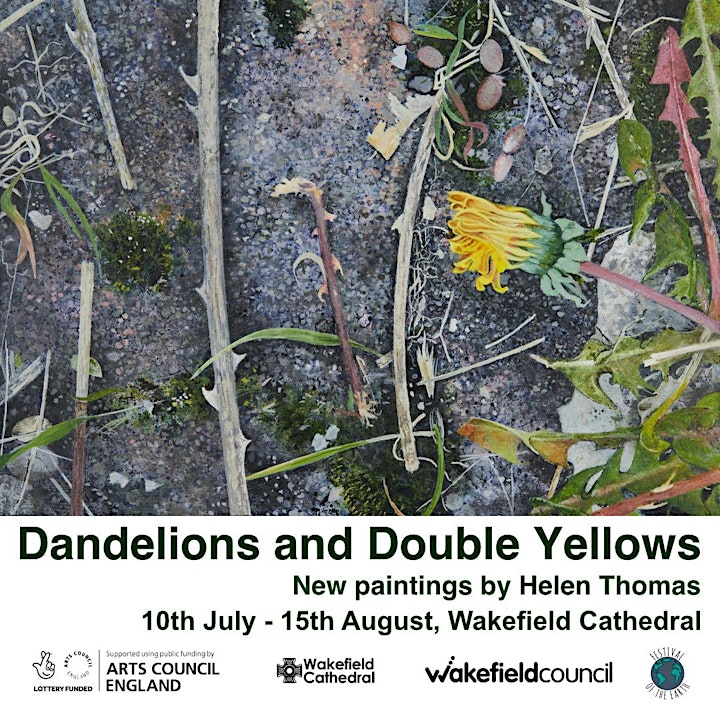 Organizer of In conversation: Helen Thomas with Prof Mike Collier and Dr Judith Tucker
Helen Thomas is a visual artist based at The Art House in Wakefield.
Drawing and painting in response to plants and place is at the core of Helen's practice. Helen works both on site and in the studio..
Helen has facilitated arts workshops and projects with all ages working in a wide variety of settings.