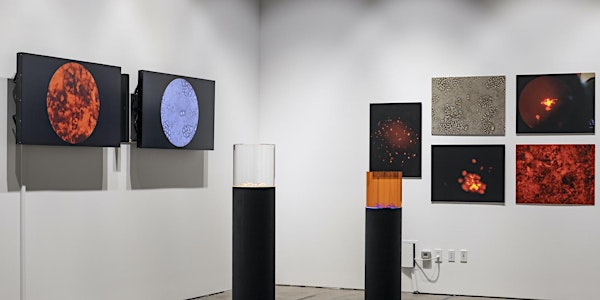 In Conversation: Heather Dewey-Hagborg and Annalee Newitz
Artist and biohacker Heather Dewey-Hagborg and science writer Annalee Newitz engage in a lively discussion about art and science.
When and where
Location
McEvoy Foundation for the Arts 1150 25th Street Building B San Francisco, CA 94107
About this event
About the Conversation
Join artist and biohacker Heather Dewey-Hagborg and science writer Annalee Newitz for a lively conversation exploring the generative intersection of art and science. Dewey-Haborg's 2019 installation Lovesick, on view in MYR, was made in collaboration with research scientists and depicts a custom retrovirus that increases production of oxytocin (the "love hormone") in the human body. Newitz explores both science fiction and nonfiction in their award-winning articles, books, and podcasts. Together, the two will discuss the increasingly blurring lines between the natural and the unnatural, ethically, philosophically, and in practice. This conversation is co-presented with the Exploratorium, where Dewey-Hagborg is Artist-in-Residence.
Health & Safety
Our highest priority is to ensure that your visit is safe, comfortable, and inspiring. Face coverings are required for all visitors age two and older while in the building.
Box Office
Advance and Walk-Up Tickets
The box office opens 60 minutes prior to the event's published start time for Will Call and walk-up sales. Doors open for seating 30 minutes prior to start time. The box office remains open for 15 minutes after the event has started. If available, walk-up tickets are sold at the General Admission price.
Seating
All seats are general admission and available on a first-come, first-served basis. Ticket holders must arrive 10 minutes prior to showtime to be guaranteed a seat.
Sold-out Events
In the case of sold-out events, a standby line will form for those without advance tickets. Standby tickets will be released on a first-come basis depending on how many seats are available after ticket holders are admitted.
All sales are final. Programs are subject to change without notice.