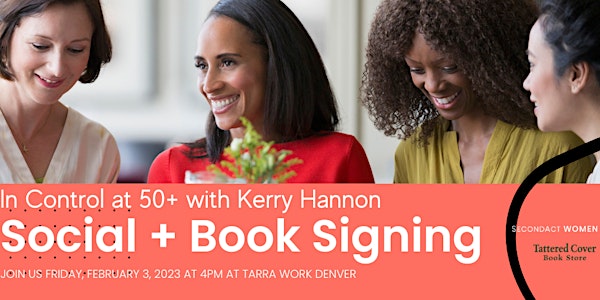 In Control at 50+ Book Signing with Kerry Hannon | CareerCon Social
Get fired up about career switching, landing a job, or making a lateral move.
When and where
Location
TARRA 865 North Albion Suite 250 Denver, CO 80220
About this event
Women over 40 join us for an afternoon social + Tattered Cover book signing
Mix and mingle with women like you looking to switch careers, happy in their career now but wanting to network or those looking to land a job and realize ageism is at play.
We're hosting a big-Ol fashioned happy hour at TARRA and invited 14-time author, speaker, workplace futurist, and senior columnist of Yahoo! Finance, Kerry Hannon to the party! She'll share insights from her new book, In Control at 50+ How to Succeed in the New World of Work.
What's in store for you - and it's free to attend:
4:00 pm Mixing and mingling
5:00 pm Conversations with Kerry and Q&A
5:45 pm Networking again
Hosted at TARRA Work and powered by SecondActWomen and Tattered Cover, we're sipping, sharing and conversating with CareerCon attendees before the big event begins on February 4. Kerry is in from D.C. to share career insights, tips, and advice from years of interviews to help seasoned pros over 40 make career power moves.
Get her book in advance! At 50+, she gives real-life, practical advice seasoned professionals over 50 can apply to find and land the job they want in middlescence.
You can also catch Kerry at SecondActWomen's second CareerCon It's a pro-age career advancement event to boost businesswomen over 40.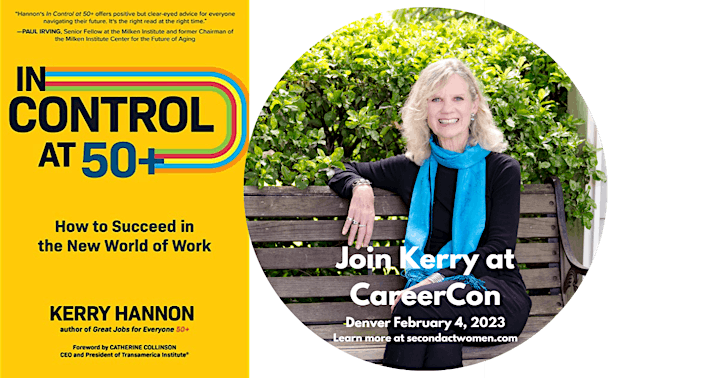 More about Kerry Hannon
Kerry Hannon is a workplace futurist and strategist on career transitions, entrepreneurship, personal finance, and retirement. She is a frequent TV, radio, and podcast commentator and sought-after keynote speaker.
Kerry is currently a senior columnist for Yahoo! Finance and an on-air expert.
She was formerly an expert columnist, opinion writer, and regular contributor to The New York Times, MarketWatch, Forbes, and a personal finance and entrepreneurship expert on the PBS website NextAvenue.org.
Millions of viewers, readers, and listeners have been motivated by Kerry's can-do, down-to-earth message. She has appeared as a career and financial expert on ABC, CBS, CNBC, NBC Nightly News, NPR, Yahoo Finance, and PBS.
Kerry has dedicated her work to make a difference in people's lives, giving them confidence and the tools to succeed personally, professionally, and financially. She offers her audiences and readers can-do expert advice on the best ways to empower themselves now and in the future.
About SecondActWomen
Founded in 2018 in Denver, Colo. by Barbara Brooks (56), SecondActWomen spurs businesses, encore careers, and lives of women 40 & 50+. The pro-age membership community delivers professional and personal development events, tools, and connections centered on moving dynamic women 40 & 50+ forward in middlescence. Check us out at secondactwomen.com and @secondactwomen on socials.