IN A LANDSCAPE: Lewis & Clark Timberlands 6:30pm Sat, 9/1
Description
Hunter Noack performs live outdoors on a nine-foot Steinway as he presents IN A LANDSCAPE: Classical Music in the Wild, a project that brings classical music to rural communities. This event is sponsored by Lewis & Clark Timberlands managed by GreenWood Resources, in partnership with Arbor Care Tree Specialists, Buoy Beer Co., and Hampton Lumber.

If you can't make it but still want to support IN A LANDSCAPE's programs to bring classical music to rural Oregon, click here.
WHAT YOU NEED TO KNOW
FIRE DANGER IS VERY REAL and we acknowledge this with the utmost seriousness. Help us keep the area safe! No smoking will be permitted in the parking area, on the shuttles or at the concert site.
DURATION
IN A LANDSCAPE is a 70-minute outdoor classical music concert.
PARKING
A shuttle service will be provided from the parking area to the concert site. Please note that access to the concert site is only available by this shuttle service. Shuttles will depart approximately every 15 minutes beginning at 4:30pm sharp. The last shuttle will leave at 5:45. Please plan accordingly.
The parking and shuttle pick-up area is located at the Tolovana Mainline forest access road, at 81305 US-101, Cannon Beach, OR 97110. It is located 0.6 miles south of the Tolovana Park exit from Hwy 101 in Cannon Beach, on the east side of Hwy 101 and at the 31.2 mile mark, just 0.2 miles south of milepost 31. There will be a white Toyota Tundra truck parked at the turn-off and visible from the highway, with a banner reading "Lewis & Clark Timberlands."
OUTSIDE FOOD & DRINK PERMITTED?
Yes.
**It may be HOT! Please bring water.**
Food and drink will also be available for purchase courtesy of Hot Box BBQ and Buoy Beer Company. http://www.thehotboxbbq.com/
ARE CHAIRS PROVIDED?
A limited number of hay bale seats will be provided. Please bring chairs or heavy blankets.
RESTROOMS
Portable toilets will be available for this event.
ABOUT LEWIS & CLARK TIMBERLANDS
The concert site is located on Lewis & Clark Timberlands, a working forest sustainably managed by GreenWood Resources that provides resources including clean drinking water, fish & wildlife habitat, forest products and hundreds of local, living-wage jobs. The forest is certified under the Sustainable Forestry Initiative ®, Inc. (SFI), a set of voluntary guidelines that help ensure that these resources are managed sustainably and will be available for generations to come.
This concert is sponsored by: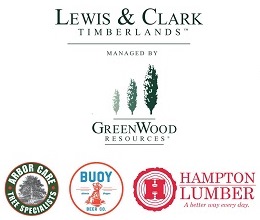 LISTEN ONLINE NOW to All Classical Portland, official media sponsor of IN A LANDSCAPE 2018!

How are you planning to get to the event?
Join other attendees from your area and ride together
Find a ride