Multiple Dates
In a Holiday Mood 21-Piece Big Band Concert featuring the Tune Swingers Orc...
Description
IN A HOLIDAY MOOD
Music and Dance for the Swingiest Season!
Featuring Live Music by Rollin Glaser & The Tune Swingers Orchestra
Sponsored by the North Carolina Museum of History

---
Everyone can enjoy the sights and sounds of the holiday season as you listen to the true BIG BAND sound of Rollin Glaser & the Tune Swingers Orchestra! The Tune Swingers are a 21-piece ensemble of musical talent that will fill you with holiday cheer! Enjoy the rousing performance of seasonal favorites in the Glenn Miller Big Band ballroom style!
Imagine the thrill of hearing the holiday classics performed by a FULL ORCHESTRA! This is a LIVE MUSIC experience that NO ONE should miss!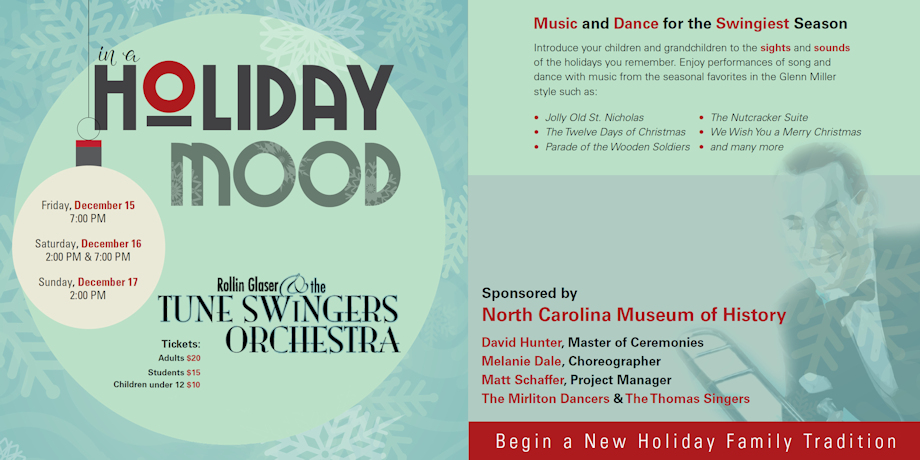 Dates/Times:
Friday, December 15 - 7:00 PM
Saturday, December 16 (2 shows) - 2:00 PM & 7:00 PM
Sunday, December 17 - 2:00 PM
Tickets
(Ticket price is at pre-sale locations, or door (if available), otherwise online fees apply.):
Adults $20
Students $18 (must present ID)
Children under 12 $10
Location:
North Carolina Museum of History Auditorium
5 East Edenton Street
Raleigh, North Carolina 27601
With thanks to:
Rollin Glaser, Bandleader
David Hunter, Master of Ceremonies
Melanie Dale, Choreographer
The Mirliton Dancers & The Thomas Singers
For Offline Information & Reservations contact Deb Brown (919)805-9884