About this Event
(Please note that this workshop will be conducted in English).
Acerca de este evento.
No te pierdas esta oportunidad de experimentar el conocido curso de Stanford condensado en un día intensivo por Bret Waters. Solo se ha hecho dos veces antes fuera de Silicon Valley, una vez en Londres y otra en Brasil. Ahora lo traerá a México solo por un día.
¿Tienes una idea para una startup o una empresa social? ¿Deseas avanzar y obtener financiación de forma rápida y eficiente? Entonces este taller es para ti!
Pasarás por el proceso de usar marcos como Lean Startup y Design Thinking para llegar a la esquiva "Product-Market Fit". Aprenderás a crear un modelo económico para tu startup (¡Hojas de cálculo!).
Hablaremos sobre lo que los inversores de riesgo buscan hoy y las claves para que tu startup sea financiada por los inversores adecuados. Revisaremos los pitch de lanzamiento efectivos y las muchas formas de financiar un emprendimiento.
Al final del día, tendrá un camino claro para convertir su idea de inicio en un negocio o emprendimiento social listo para su financiación, listo para su lanzamiento. ¡Únete a nosotros para un día completo de diversión, colaboración y aprendizaje!"
- -
Don't miss this opportunity to experience Bret Waters' well-known Stanford course condensed down to one intensive day. He's only done this twice before outside of Silicon Valley - once in London and once in Brazil. Now he's bringing it to Mexico for one day only.
Do you have an idea for a startup or a social venture? Want to move it forward - and get it funded - quickly and efficiently? Then this workshop is for you.
You'll go through the process of using frameworks such as Lean Startup and Design Thinking to get to the elusive "Product-Market Fit". You'll learn how to create an economic model for your startup (spreadsheets!).
We'll talk about what venture investors are looking for today, and the keys to getting your startup funded by the right investors. We'll review effective pitch decks and the many ways to finance a startup.
By the end of the day you'll have a clear path to turning your startup idea into a funding-ready, launch-ready business or social venture. Join us for a full day of fun, collaboration, and learning!
Modules for The Day
Listen to the waves. Introduction, including themes of idea vs execution, unit economics, and mythbusting. Most great startups begin by observing a problem worth solving.
Create something people want. The only thing that matters is getting to Product-Market Fit. So the only question then is how do we get there most efficiently? Concepts covered include Design Thinking, Lean Startup, and landscape analysis.
Create an engine of growth. We'll learn about the Business Model Canvas and how to create one for your venture. We'll also look at drawing diagrams of how the money flows, and other crucial visualizations that help to inform how your particular business model creates value.
Create an economic model. Spreadsheets! More spreadsheets! It ain't gonna work if the numbers don't add up. The leading cause of startup death is CAC > LTV. Most startups go broke – slowly at first, then all of a sudden. Let's get the numbers right and avoid this.
Get Lawyers, Guns, and Money. Getting your startup funded! Choosing the right legal structure and choosing the right capital strategy. We'll look at debt capital, angel capital, impact funds, and venture capital. We'll look at term sheets, liquidation preferences, valuation, and so much more!
Create a funnel. Most startups fail from lack of customers. Everything was perfect, but the customers didn't show up. Let's avoid that.
Jedi Mind Tricks for Entrepreneurs. The human mind is a powerful thing. It also is a tricky thing – all of us have certain elements of our psychology that both drive us to success and can trip us up.
Articulate the story. Every great entrepreneur has the ability to tell a crisp, clear, and compelling story of what she's working on - and why it matters. The day will end with a pitch contest, and the winner will walk away with one million dollars (in fake money).
Quotes from previous attendees:
"One of the best workshops I've ever taken. Bret's deep understanding of everything related to startups is amazing".
"I had the good fortune taking Bret's workshop. He is an incredible professor, with a very engaging teaching style, drawing on his own rich experience to illustrate key concepts. It was truly transformative."
"Bret's Entrepreneurship workshop gets a 5-star rating. After the workshop I not only feel well prepared to launch my own new venture, I've also recommended it to several other colleagues. Bret's energy is infectious and his workshop is informative and dynamic."
"After this workshop I was able to raise capital and launch my startup. Bret's workshop helped me to understand what venture capital investors are looking for".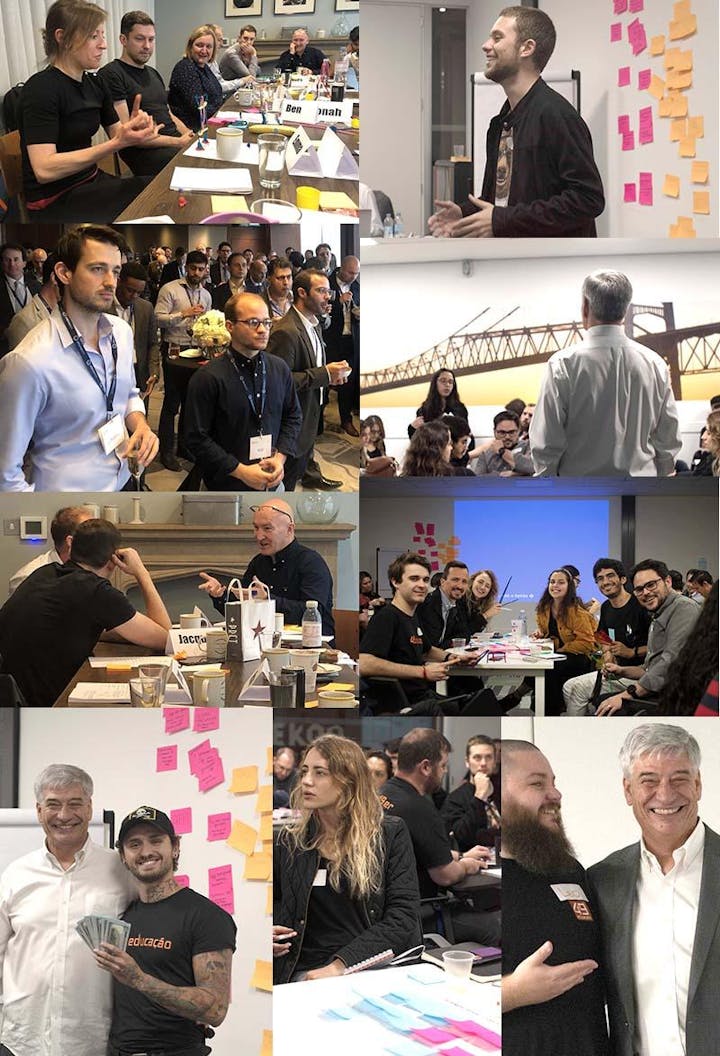 FAQs
How can I contact the organizer with any questions? Just send an email to veronica@4thly.com and Verónica will be happy to answer any questions you have.
Will there be food? Yes! Entrepreneurs need to be fueled! We will have food brought in so that we can stay immersed together as we learn and build great ventures. The food and beverages are included with your ticket price.
Will I have access to the course content afterwords? Yes, graduates will have password-protected access to the course material to freely-use whenever they need. This includes the slides, templates, frameworks, and spreadsheets used during the workshop. Everything required to build a launch-ready funding-ready venture.
Is my registration fee or ticket transferrable? Yes. If you are unable to use the ticket, you may send a friend or colleague instead.