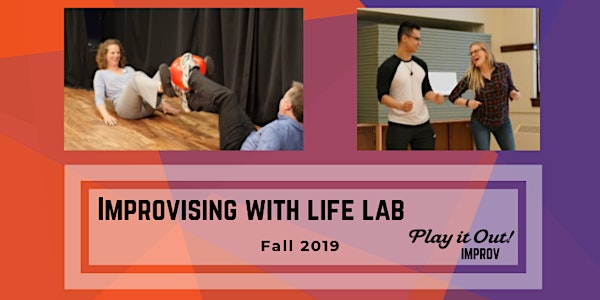 Improvising with Life Lab - September 22
Exploring the juicy intersection between improv and conscious living.
When and where
Location
Fauntleroy Schoolhouse 9131 California Avenue Southwest Seattle, WA 98136
Refund Policy
Contact the organizer to request a refund.
Eventbrite's fee is nonrefundable.
About this event
Step into Play It Out's improv laboratory, a microcosm of life, where we will experiment with practices that spark "a-ha"s and insights that we can take into our daily lives. There are many ways to get to know ourselves better. What makes improv unique is that we do it in relationship with each other in unknown situations. Sound familiar? Yeah, that's life. Unless you're on the top of a mountain meditating in solitude (if that's the case, why are you on the internet?), you're probably in relationship most of the time with someone: your partner, kids, roommate, that barista, the person honking behind you in traffic. Improv can be a powerful, friendly way to practice skills in presence, connection and play… skills that strengthen our daily relationships and ramp up our daily joy.
Do you want to:
Stop fighting yourself and know how to transform any experience into creative expression?
Feel confident that you can participate and play with anything tossed your way?
Learn how to see different situations and people as your allies?
Know what you cannot control and free your energy for what you CAN control?
If yes, then join me in the Lab this fall 2019. Let's create a space for our genuine discovery while having a really good time! Once a month we'll explore one of the questions above above through improv games and mind/body centered activities. Sign up for all four fall labs and get a discount or register for the ones you can attend individually.
Sunday, September 22nd
6:30-8:30pm
'Yes, And' Yourself - When we match our expression with our inner experience we can relax and can begin to play. Our experience is a fountain of inspiration for creating whatever we want.
October 13: Allies - It order to feel supported, we need to be willing to see others as our allies, as people who are there to help us discover what we most need and what to learn.
November 10: The Offer - Everything is available to play with - if you let it in. We choose if and how we keep the game going.
December 8: Letting Go - So much of our creative energy is wasted on trying to control things that are absolutely beyond our control. Letting go of what we can't control and focusing on what we can completely changes our relationship with ourselves and others.
Sign up for all 4 labs before September 22 here.
Improv has been my go-to practice on stage and off for the past four years. Through this journey, I discovered how much easier it is to use my whole self to transform my experience through play, rather than struggling to "figure things out" with just my brain. I enjoy applying the fundamental improv principle, Yes, And, to my life. I invite you to say YES to what you are creating in your life and to acknowledge yourself as a powerful creator. Then ask… What's the AND? How can I use what's here to inspire and create what I really want? I'm a certified Hendricks' Big Leap Coach and facilitator (http://www.hendricks.com) and I've also been practicing traditional theater improv since 2015, graduating from Seattle's Unexpected Productions School of Improv (http://www.unexpectedproductions.org). I created Play It Out Improv to inspire and empower people to celebrate and improvise with what is, to instantly create what they really want.
I facilitate playshops that mix improv exercises and Hendricks transformational tools to engage our body's intelligence for maximum fun and full expression.
Playfully,
Dhira
Celebrate what is. Play out what's possible!