Description
Improving the Employee Experience: A Structured, Practical Method
— Business Model You® Certified Practitioner Course —
San Francisco, California Thursday and Friday April 9-10, 2020 9:30 am till 4:30 pm both days

Successful, forward-looking organizations operating in competitive markets recognize that attracting and keeping good people is no longer possible without providing a decisively better employee experience.
They also recognize that improved employee experience translates into improved customer experience.
Yet despite continuing problems with turnover, retention, and burnout, positive efforts to shape the employee experience remain haphazard at most organizations.
How can organizations create an employee experience that focuses people's action, yet energizes them? Most organizations over-rely on verbal and written communications. But that approach is outmoded in today's visual, systems-driven world.
A growing number of groups recognize the need for change and are using visual modeling to dramatically improve people's workplace experience. Visual modeling shows people where they fit into teams and how to contribute. And visual modeling lets organizations attract, onboard, develop, and retain the people they can't afford to lose.
This fresh approach to improving the employee experience can be readily learned and used by team leaders or individuals. It is based on the methodology described in Business Model You, the global bestseller published in twenty languages, and updated and informed by the originators' latest work, Business Models for Teams.
The Business Model You® methodology shows people how to visually depict work at three different levels: 1) individual, 2) team, and 3) enterprise. It uses the same simple tool to grasp all three levels of work, leading to stunning insights about where people best fit in and can contribute most. Equally important, the jargon-free Business Model You® method itself is an intriguing, joyful process that is enthusiastically embraced by employees of all kinds.
A maximum of 30 participants will spend two immersive days mastering the Business Model You® methodology in San Francisco. Working directly with the method's originators, participants will study and learn the following: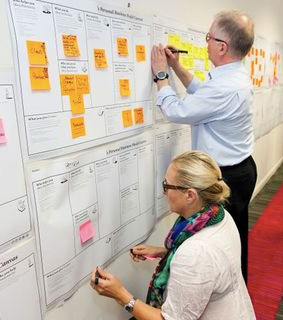 Personal, Team, and Enterprise Modeling

Constructing and Debriefing Personal Service Models

Model-Based Coaching and the Three Questions™ Development Model

Implementation Design
Participants alternately serve as coaches, clients, and observers to practice the techniques and gain a true 360° understanding of the methodology. Work with training colleagues includes a blend of interactive presentations, pair and team exercises, case studies, brief videos, structured feedback sessions, and group-generated Q & A with the method's originators. Candidates who successfully complete the two-day program are awarded a Business Model You® Master Class-Certified Practitioner certificate.
Enrollment Prerequisites
Applicants must commit to two full days of training. Enrollees will be informed as to specific preparations upon acceptance into the course.
Who Should Attend
Project leaders, team managers, human resource professionals, organization development consultants, coaches

Please note that registration is for two full days on April 9 and 10, 2020.

Program Overview
Day 1 User Experience: Modeling Work
Thursday April 9, 2020
Doors open: 9:00 am
Training begins promptly at 9:30 am

Draw
Set Goals: What Brings You to San Francisco?
Two Critical Business Model Lessons in 5 Minutes
Guided Tour of the Enterprise Business Model Canvas
Practice Drawing a Familiar Business Model
Guided Tour of the Personal Service Model
Draw "As-is" Models
Pair & Share "Painstorm"
Recap Lessons Learned
— Coffee Break —
Assess
Personal Service Model Case: From "Job" Description to Role Depiction
Think Out Loud Lab: Peer Consulting
Colleague Buzz Group | Q & A: Ask the Authors
Pair & Share
Morning Summary | Group Picture | Change Seats
— Lunch —
Revise
Draw "To-Be" Personal Service Model as Third Object for Development Discussion
Think Out Loud Laboratory 2: Visual Peer Feedback
Debrief | Q & A: Ask the Author
— Coffee Break —
Test/Act
Test New Models
Share With Colleagues
Roleplay: The Reunion
Summary and Evaluation
Social Hour | Networking



Day 2 Practitioner Training: Master Class
Friday April 10, 2020
Doors open: 9:00 am
Program begins promptly at 9:30 am


Facilitator Guide Overview
Set Goals: How Will You Use the Method?
Simple Rules for Drawing Models
Draw a New "As-is" Model
Pair & Share
Introduction to Model-Based Coaching and the Three Questions™ Development Model
— Coffee Break —
Model Coaching Practicum in Trios
Sharing & Debriefing
Morning Wrapup, group picture, table change
— Lunch —
Put Yourself on the Line!
Implementation Design Overview
Implementation Design Practicum Part I
— Coffee Break —
Implementation Design Practicum Part II
Implementation Design Presentations
Summary and Evaluation
Presentation of Certificates

Participation is strictly limited to a maximum of 30 participants. Participation fee includes:
82-page facilitator guide Including complete 20-page workshop script/scenario

Three oversized Personal Service Model posters

Lifetime access to the Business Model You® online training course (in English)

Lunches plus daylong refreshments

Participants who successfully complete the two-day program will be Awarded a Master Class Certified Practitioner certificate. Read complete details about the Certified Practitioner training.
NOTE: Program is subject to change without notice. Please contact the organizer (info at BusinessModelYou.com) with questions. Cancellation terms: If you cancel up to six weeks before the event, 50% of your workshop fee will be refunded. After that date we cannot refund fees for any reason, but at any time you may designate someone else to attend the workshop in your place. Tickets prices will be refunded 100% if the workshop is canceled at the organizer's discretion. The organizer cannot be held responsible for travel reservation losses or inconvenience resulting from cancellations.

About the Venue



Built in 1949, the Golden Gate Club was once the enlisted men's service club and the site of several historic treaty signings. Today it is a popular celebration and meeting venue on the Main Post, the cultural heart of th​​e park.
The site features views of San Francisco Bay, the Golden Gate Bridge, Alcatraz, and the Presidio forest. The graceful Spanish Colonial R​evival-building offers a spectacular setting for weddings, private parties, meetings, and conferences.


Participant Praise for Business Model You® Certified Practitioner Training


"Very strong, condensed training (no blah-blah-blah)! The methodology helps me quickly identify, test, and revise unclear value propositions or missing prerequisites for their provision. Now I can better support employees and teams at thyssenkrupp."
Dr. Christoph Schindler, Senior Health Expert Occupational Safety and Health thyssenkrupp AG (161,000 employees)
"I learned more about strategy during the first two hours of the Business Model You® workshop than I did in two full days of expensive 'strategy training' in Paris."
Pavel Novak, Negotiation Trainer, Czech Republic
"Our experience with the Business Model You® approach has been nothing but positive for our participants — even transformative for some!"
Tim Lybarger, President & CEO, Encore NEO
"The Certified Practitioner training brimmed with energy, refreshing approaches, and inspiring insights. Thanks to top-notch colleagues from around the globe for all the enriching exchanges. Looking forward to translating the learnings into a powerful value proposition for colleagues and customers in search of a fresh perspective on professional progress."
Carl Lepoutre, Certified Change Manager, BNP Paribas Fortis (202,000 employees)
"The Facilitator Guide is invaluable."
Jane Leonard, Career Coach, UK
"This was great! The tool is very practical and the training gave me an opportunity to learn methods that I will use to help people to re-define their careers. But apart from that I found it extremely useful as well to try on myself – and I left the training with very concrete ideas for action and improvements."
Monika Schwertner, HR Business Partner for CEE, Talent Manager for EMEA Houghton International (8,000 employees)
"Big insights. Very clear. Bestows confidence!"
Marco van Damme, Entrepreneur, The Netherlands
"The days had a nice flow, making it easy to learn. Gave me the confidence to start building skill in delivering my own workshops."
John Thompson, Consultant, UK
"The Certified Practitioner class was absolutely worthwhile! This was due both to the professional and engaging training concept and delivery and to the great group of people that joined the training and offered strong inspiration and ideas. The methodology will help newly formed internal teams on their journeys to defining their value propositions to the company."
Ute Amberger, Senior HR Specialist Training BASF Colors & Effects (BASF has 112,000 employees)
"I love Business Model You because it gives business model clarity, focus, and direction - all on one page, with a proven, step-by-step method based on the building blocks of business itself It's simple, fast, and effective The visual aspect. is fun and engaging and, yes — it works!"
Bryan Lubic, Professional Development Advisor,
San Diego State University
"The facilitators were awesome :-)"
Laurence Pratt, User Experience Designer, UK
"This is an incredible book. It has changed my own life as well as those of my clients."
Mary Anne Shew, Small Business Consultant,
Rochester, New York