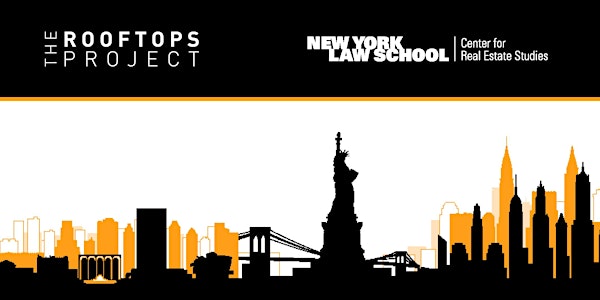 Improving Health & Wellness Through the Design of Your Space
Improving Health & Wellness Through the Design of Your Space (Live, Virtual Online Program of The Rooftops Project & New York Law School)
About this event
Improving Health & Wellness Through the Design of Your Space
Live, Virtual Online Breakfast Program of The Rooftops Project and New York Law School's Center for Real Estate Studies
Friday, March 5, 2021 9:00 - 10:00 a.m. Eastern Time
We are very pleased to announce this upcoming breakfast-time program that you can join virtually, from wherever you are. As with all Rooftops programming, the session is free and advance registration is required.
Following her well-received lecture on "Trauma Informed Design" at October 2020 Rooftops Conference NYC, Ambar Margarida, Principal of Interior Design at the architecture and design firm Spacesmith, will discuss the visible and invisible contexts that inform and shape design decisions. The program will focus on how evidence-based interior design can affect and bring positive change to human behavior in the built environment.
There is a growing awareness among varied experts and clinicians about the need to create human-centered environments that help occupants and visitors to a space cope with the negative feelings associated with today's ever changing stressors and life struggles. More real estate professionals, interior designers and architects, for example, are aware that incorporating biophilic design concepts to connect building occupants to nature is increasingly found to have positive impacts such as increases in calmness and positive distraction. Negative emotional states including anxiety and anger tend to diminish with views of the outdoors and nature. Acoustics matter, too: Reduced ambient noise has been shown to improve cognitive function, while daylight — and artificial light that mimics sunlight and diurnal cycles -- has been proven to help maintain human circadian rhythms and improve emotions and the ability to concentrate and sleep.
A seminal 1984 study by noted healthcare design researcher Roger S. Ulrich found that surgical patients in hospital rooms with a view of nature suffered fewer complications, used less pain medication and were discharged sooner than those who looked out on a brick wall. This study helped lay the foundation for an entire discipline now known as evidence-based design. Much evidence exists about the physiological and psychological impact our physical environments have on our feelings of safety, well-being and satisfaction.