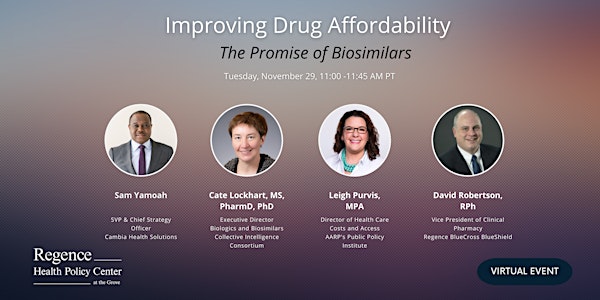 Improving Drug Affordability: The Promise of Biosimilars
Join the Regence Health Policy Center as we explore the future and promise of biosimilars advancing prescription drug affordability.
About this event
Biosimilars were first approved for use in the United States in 2015. With a growing number of available biosimilar products and a need to decrease the costs associated with prescription drugs, are biosimilars on track to deliver the savings promised? What role do payers and providers play in advancing broader adoption of biosimilars as a safe and effective treatment?
This event will bring together experts to share their perspectives in a discussion on the potential biosimilars have to reduce costs while continuing to provide access to high quality care and pose solutions to advance broader adoption.
Speaker Bios:
Sam Yamoah, SVP & Chief Strategy Officer, Cambia Health Solutions
Sam Yamoah drives Cambia's innovative framework to serve customers with simpler and more affordable health care solutions. With extensive experience in strategic business building in health insurance, systems and technology, Sam has a history of bringing teams together to solve some of health care's toughest challenges.
Sam came to Cambia from McKinsey & Company, where he was an associate partner and a leader in the health care and public sector practice providing counsel to clients on top-management agenda topics. His primary focus areas included strategy, profitable growth and large-scale performance transformations. Before McKinsey, he held product development and process improvement roles at McKesson Corporation.
Sam is passionate about serving the community and improving health disparities in marginalized populations. He was the health care leader for McKinsey's Institute for Black Economic Mobility, a research institute and think tank dedicated to advancing racial equity and inclusive growth globally.
Sam co-founded a non-profit organization that distributes books to schools, libraries and other learning centers in Ghana. He serves on the board of directors for the Center for Economic Inclusion and the alumni council of Luther College. He received a master's degree in business administration from the University of Chicago Booth School of Business and a bachelor's degree from Luther College in Iowa.
Cate Lockhart, Executive Director, Biologics and Biosimilars Collective Intelligence Consortium
Cate is the Executive Director of the Biologics and Biosimilars Collective Intelligence Consortium (BBCIC.org) where she is responsible for both the business and research programs of this large, multi-stakeholder research collaboration. Previously she was the HEOR expert at Omeros Corp in addition to part-time work with BBCIC as Research Team Coordinator. She also conducted several projects in health economics and outcomes research as an independent consultant. Prior to that, Dr. Lockhart was Associate Clinical Director at Strategic Pharmacy Innovations.
She has done extensive research, medical writing and consulting in multiple disease states and therapeutic areas, producing clinical and economic reviews, pharmacoeconomic models and AMCP dossiers to support formulary decisions and value assessments of pharmaceutical products across a variety of therapeutic areas. Cate has a unique breadth of formal training and practical experience and knowledge in basic science, managed care pharmacy, clinical analyses and quantitative sciences including outcomes research, health economics and epidemiology. Cate has three undergraduate degrees: B.S. in Electrical Engineering, B.S. in Visual Communications, and B.F.A. in Theatre Arts. She completed three advanced degrees from the University of Washington in Seattle: a PharmD, an M.S. in Health Economics and Outcomes Research, and a Ph.D. in Pharmaceutical Sciences. She has a U.S. Patent, "Calibration Method and System for PET Scanners."
Leigh Purvis, Director of Health Care Costs & Access, AARP Public Policy Institute
Leigh is the Director of Health Care Costs & Access in AARP's Public Policy Institute (PPI), where she leads a team of policy analysts and researchers who work on health care issues that are relevant to the 50-plus population. She also heads the Institute's work on prescription drug issues and is a recognized expert on prescription drug pricing and coverage. Ms. Purvis has testified before Congress on behalf of AARP and speaks frequently on a wide variety of prescription drug-related issues. She is also the co-author of the AARP PPI Rx Price Watch reports, which have been tracking the prices of prescription drugs widely used by older Americans since 2004.
Leigh has an MPA with a concentration in health administration and policy from George Mason University and a BS in psychology from the University of Mary Washington. She also holds a certificate in gerontology from the University of Washington.
David Robertson, VP of Clinical Pharmacy, Regence BlueCross BlueShield
David joined Cambia Health Solutions/Regence Blue Cross Blue Shield in 2016 and currently serves as Vice President of Clinical Pharmacy. David is responsible for programs that promote safe, high quality, affordable medication use. He has a passion for solving the challenges that consumers face in getting the medications that they need. In service of this goal, his accountabilities include formulary and utilization management, cost stewardship, pharmacy quality programs/Medicare Stars, medical and specialty pharmacy management, product and benefit design, and provider partnerships and engagement.
David has over two decades of pharmacy experience in a variety of settings including managed care and pharmacy contracting within a large IDN, home infusion, long-term care, mail order, and retail pharmacy. David is based in Portland, OR, and enjoys getting outside as much as possible to camp, hike, kayak, and other activities to fully enjoy the beauty and splendor of the Pacific Northwest.