Description
ImproveSF Design Jam
Rags to Revenue: What local jobs and start-ups could we create from textiles now going to waste?


Friday, September 6th (5:30pm - 8pm)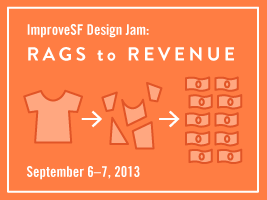 Part 1: An introduction to the Challenge to learn from experts working on issues related to job creation in San Francisco
*Wine and light refreshments will be provided*
Saturday, September 7th (9am - 3:30pm)
Part 2: A day-long creative workshop to ideate solutions to the challenge
*Breakfast, lunch, and snacks will be provided*


WHAT is the ImproveSF Design Jam?
This September, the City of San Francisco is inviting its citizens to participate in the "Rags to Revenue" Challenge to address the issues of waste and job creation. The ImproveSF Design Jam will kick-off the challenge with a two-part event where folks from the design, start-up, and social enterprise space come together to collaborate on innovative ideas to answer the challenge question:
What local jobs and start-ups could we create from textiles now going to waste?

Participants will apply design thinking and human-centered design principles to identify opportunities and to practice the tools to refine these ideas and concepts. This hands-on event will give engaged individuals from diverse backgrounds the opportunity and tools to rethink waste and job creation in order to benefit San Francisco and its citizens.

WHEN and WHERE is the ImproveSF Design Jam?
Part 1: Evening Reception - Friday, September 6th (5:30pm - 8pm)
SF Goodwill HQ
86 11th St., San Francisco, CA 94103
(corner of Mission and 11th)
Directions: Take BART/Muni to Van Ness.

Part 2: Design Jam - Saturday, September 7th (9am - 3:30pm)
Adaptive Path
Pier One, Bay 2, San Francisco, CA 94111
Directions: Take BART/Muni to Embarcadero for Adaptive Path.

WHO can attend the ImproveSF Design Jam?
Everyone and anyone can join! You might be...an engaged citizen, government employee, designer, developer, non-profit professional, social entrepreneur, social worker, urban planner, architect, MBA, Public Policy Administrator, student, teacher, hacker, maker, thinker or tinkerer. You do not need to have any design experience, just bring a positive attitude and be willing to learn.

Look forward to jamming with you!!
Note: If you have any financial hardship paying for the event, please contact mindy@goodinc.com.