Improve Your Public Speaking with Speak Up Houston Toastmasters Online
Participate in Toastmasters' proven program, where you'll learn how to speak comfortably in front of a group & lead with purpose.
About this event
GUESTS WELCOME!
Looking to improve your public speaking skills or build confidence to speak out and make your ideas heard?
We are here for you. Whether you are speaking in front of a group for the first time or refining your well-practiced skills we provide a safe and supportive environment for personal growth.
For nearly 100 years, Toastmasters International has helped millions of people become more confident communicators, public speakers, and leaders. Today we want to share the Toastmasters experience with you.
At Speak Up Houston Toastmasters you will:
Get comfortable speaking in front of a group. Through practice of both impromptu speaking and prepared speeches, you will learn to become more comfortable with being uncomfortable in a friendly supportive environment.
Improve your presentation skills by writing and practicing speeches and mastering the use of words, your voice, and body language.
Master impromptu speaking and be ready to express yourself effectively in any social and professional situation.
Grow into a persuasive communicator and effective leader by taking on different club roles, sharing constructive feedback, completing your projects, running meetings, and organizing events.
Increase your language fluency through practice in a non-judgmental environment.
Build a network of people who have similar interests in self-development and personal growth.
We would love to share the benefits of the Toastmasters experience with you.
Speak Up Houston Toastmasters is still Virtual.
Instagram @SpeakUp.Toastmasters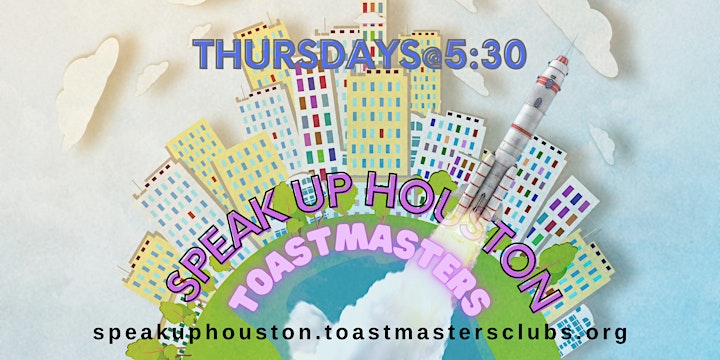 Organizer of Improve Your Public Speaking with Speak Up Houston Toastmasters Online