Description
Have you ever thought about how to find out what your customers really want - or how to tweak your product or communications to get even more, happier customers?
This full-day hands-on masterclass will help you build your skills and confidence and improve your success with User Experience, Agile and Lean Startup approaches.
SESSION OVERVIEW
To build the right product you need to understand the people who use it. Good interviewing should be one of your core skills—whether you are a designer, an entrepreneur, a product manager or an innovator.
This workshop will show you how to get the most from your conversations with customers. In a series of mock interviews you'll learn basic techniques, mistakes to avoid, and lightweight analysis and synthesis techniques that work well in rapidly changing innovative and entrepreneurial environments.
You'll learn:

How effective interviewing can be key to understanding business value

How to avoid common interviewing mistakes like "selling solutions too early"

The importance of separating observations, insights & solutions

How to quickly and cheaply analyse interview results with your team

The importance of silence in customer interviews
ABOUT ANTONY QUINN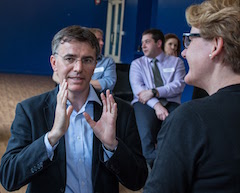 Antony helps organisations improve performance and productivity through digital technology consulting. He's worked with startups, established businesses and agencies.
He's built his skills and expertise over 17 years as a software developer and user experience designer working in finance, manufacturing, healthcare and bioinformatics.
You can find more about Antony at antonyquinn.co.uk
---
Cartoon courtesy of Tom Fishburne: talkingtohumans.com/cartoons

Photograph courtest of Jeremy Peters: jeremypeters.com

Date and Time
Location
CambridgeSpace @ Hundred Houses Society
51 Scotland Road
Cambridge
CB4 1QW
United Kingdom