Multiple Dates
Improve Your Presentation Skills with a Toastmasters Club in the West (FREE...
Description
We are a Toastmasters club in the west that meets TWICE a month. That means more opportunities for you to practice your public speaking.
---
Imagine standing on a stage and confidently giving a well-crafted and well-prepared speech.
You rouse your audience's emotions and they give you a standing ovation, clapping and cheering your name.
You've shared your message and made an impact on someone's life.
That is our goal at Jurong Green English Toastmasters Club: to prepare you for the real stage.
We provide a safe and non-judgemental environment in the West and a platform for you to practice your speaking skills.
We believe everyone has a story to tell and a message to share. One day, you will be called to share that message - either at a company event or a conference - and you would kick yourself for not joining us and preparing yourself for that day.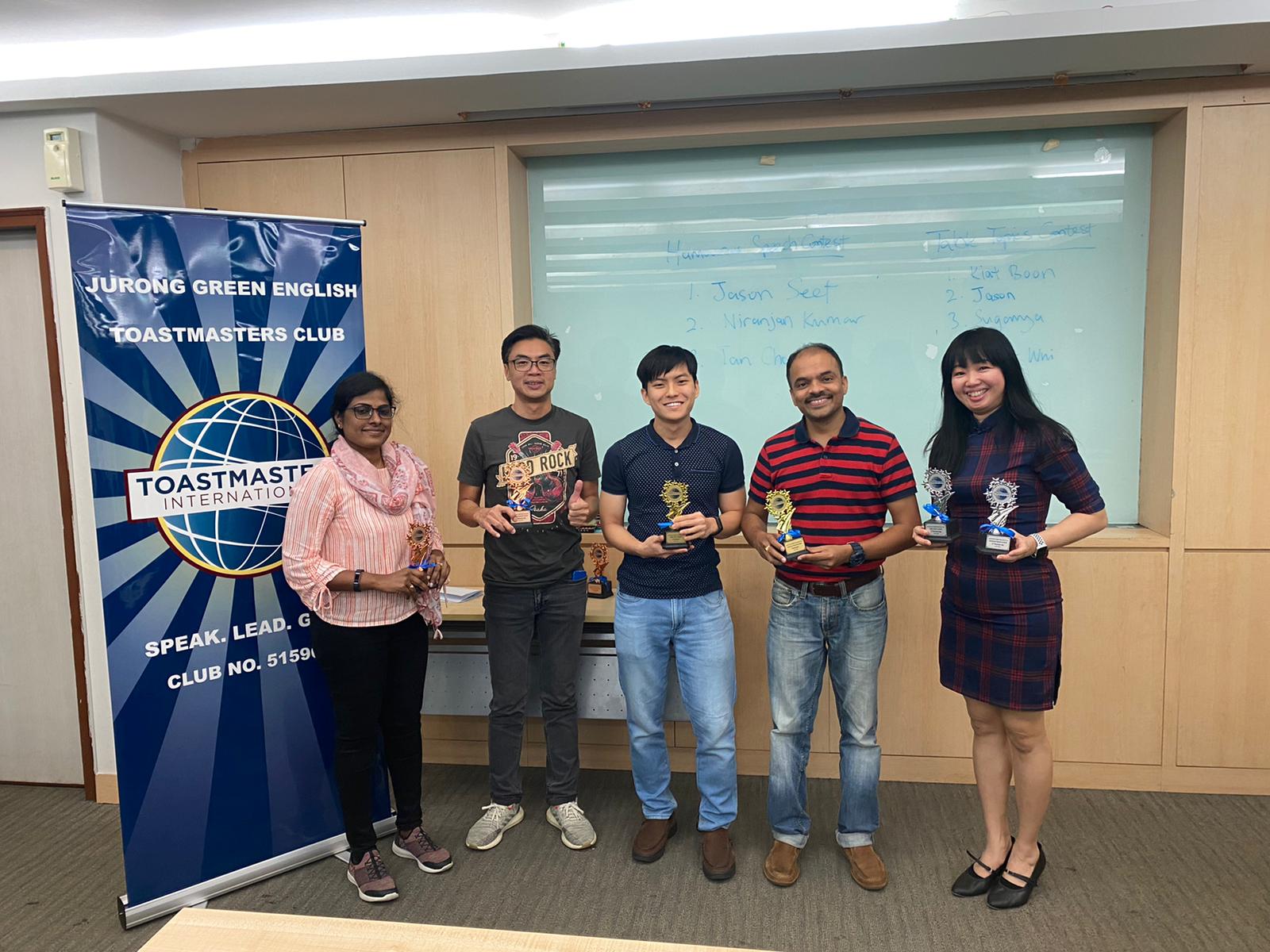 At our twice-a-month meetings, members give prepared speeches to an audience and receive feedback from more experienced speakers. As a guest, you also get to try out our Table Topics session; where you'd be invited to give an impromptu 1-2 min speech on a certain topic.
It is a great way for you to experience how it feels like to speak in front of an audience and to think on your feet.
And who knows? Maybe you'll get a special award from us :) (That's how we roll - we celebrate our members' milestones)
Our members come from all walks of life and everyone has a different reason for joining.
Some just want to boost their confidence.
Some people like to network and meet new friends.
Most would like to brush up on their presentation skills and ace that important presentation at work and get that promotion.
No matter what your reason is for joining, one thing is for certain: you will have a warm family welcoming you with open arms.
Many clubs in Singapore meet only once a month, and some charge a fee for sitting in. We have twice the opportunities for you to speak, and guests are welcomed FREE.
If that sounds right for you, then join us.
We meet on the 2nd and 4th Fridays of the month (7:00-9:45 pm).
Our meeting venue:
Jurong Green Community Club, Level 3 Room 8
6 Jurong West Avenue 1
Singapore, 649520
If you have any questions, please contact Club President Owen at 91513817
Read more about our meetings here: https://icebreakerspeech.com/toastmasters-singapore