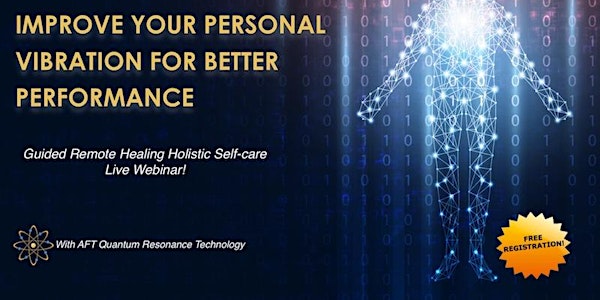 IMPROVE YOUR PERSONAL VIBRATION FOR BETTER PERFORMANCE
FREE Live Zoom Webinar: Improve your Personal Vibration for Better Performance! How well you feel, think, and act is based on.....
About this event
Energetic wellness is the key to good health and wellbeing.
In today's world, with ever-increasing demands on our time and energy, it's more important than ever to take care of our bodies and minds. Regular holistic healing and empowerment can help us to stay proactive in meeting these demands, by keeping us physically and mentally healthy.
We are a mass of condense energy in a dynamic state, combined with information such as: beliefs system, empowering & dis-empowering values, emotional likes & dislikes, mental focus, desires and fear, creates an identity to an individual. This identity is programmed consciously and unconsciously through lifetime learning and experiences, which create a distinctive vibration very unique to that individual. When in harmony, this personal vibration aligns with all mental, emotional, physical and spiritual aspects, creating a stronger and more vibrant energetic being.
In this live and engaging webinar you will learn:
About the Importance of Holistic Self-care and Healing
Natural Life-force Quantum healing for Aches and Pain.
How to Reduce Stress & Anxiety
Increase your inner balance, Regain Positive Energy and motivation
Realign & Restore your Energetic Signatures
Plus, know the latest Quantum technology tools and get tips and ways to help you get started on your own journey to better health!
Special Offers wait for all attendees