Improve Your Job Prospects

Thursday, May 12, 2011 from 9:30 AM to 4:00 PM (BST)
Event Details
Are you currently unemployed, under-employed or looking for a career change – maybe setting up your own business? TusNua are delighted to host an event in Limerick on how to Improve Your Job Prospects. The TusNua partners have come together to host a day of FREE workshops to help YOU improve your CV skills, Interview Skills, Identify your Transferrable skills, find out more about your Online Reputation and much much more. It's not to be missed.
Event Schedule:
| | | |
| --- | --- | --- |
| Start | Finish | Item |
| 09:30 | 10:00 | Registration - Welcome  - Tea/Coffee Meet and Greet |
| 10:00 | 11:00 | Open - Speaker |
| 11:20 | 12:00 | Workshops (as per list below) |
| 12:10 | 12:50 | Workshops (as per list below) |
| 12:50 | 13:20 | Lunch |
| 13:20 | 14:00 | Speaker |
| 14:10 | 14:50 | Workshops (as per list below) |
| 15:00 | 15:40 | Workshops (as per list below) |
| 15:45 | 16:00 | Close and Thank you... |
There will also be an OPEN area with refreshments where you can meet and talk to people who started up their own business, went back to education or changed their career. The TusNua partners will be there too to help you in any way they can.
NOTE: If you have not registered online or by phone you can still register on the day
The following are the list of workshops
CV Skills & Cover Letters Workshop
Understand the importance of preparing a concise and targeted CV. Many CVs are compiled without any par­ticular job in mind and are used to apply for a number of vacancies irrespective of the job descriptions. This ses­sion emphasises how every job application requires a customised CV. A Cover Letter gives you another plat­form to market your skills, convey your interest in the company, can help you to fill in any gaps in your cv, market your transferable skills and much more.
Identifying/Developing your Transferable Skills
Identify the skills you have already developed which are valuable to any job for which you apply. Learn how to present your skills positively and to translate their appli­cability from one job to another.
Temp Your Way In/Get that work experience
The importance of work placements – how volunteering can help your job prospects, the changed structure of the jobs market, no such thing as a job for life anymore.
Setting up a Business
If you are interested in setting up a business then this workshop is for you. The County Enterprise Boards and Enterprise Ireland will outline the supports available to assist you in getting your business off the ground. You will also benefit from hearing the experience of people who have already set up a business
Interview Skills Workshop
The good, the bad, the ugly. Interviews can be nerve-wrecking experiences. Learn how best to prepare your­self for an interview. Eliminate negative feelings and accentuate the positive!
How your Online Reputation can help improve your Job Prospects
Learn about LinkedIn and how to use it – why use it Discuss private and public persona's – what to make visible and what to keep private and how to do it The benefits of reaching out beyond social networking for example commenting on blogs or forums and much more..
Planning a Career Change
Career planning is a lifelong process. Understand this process, and how it relates to your own life. Increase control over your own life and your career decisions.
Returning to Education
You are considering returning to learning—but you don't know exactly what you want to do or where to do it? Discover some tools to help you identify what you are most interested in learning and identify different information sources to help you find the right course for you.
Finding Inspiration
Through reflective exercises and discussion, this experi­ential workshop will give you the opportunity to explore what inspiration is and to connect to your own source of inspiration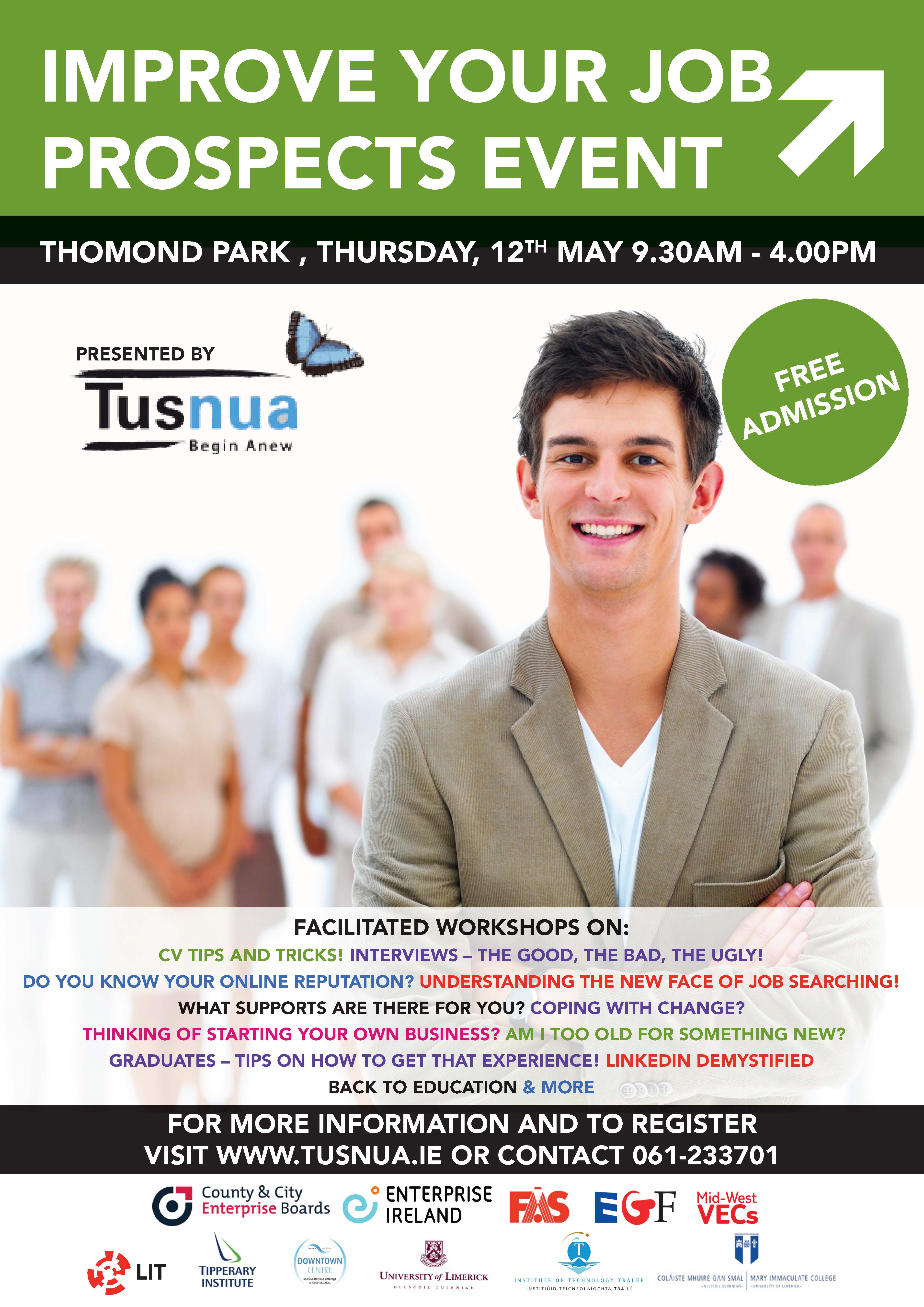 When & Where

Thomond Park

Limerick
Ireland


Thursday, May 12, 2011 from 9:30 AM to 4:00 PM (BST)
Add to my calendar
Organizer
TusNua
The Tús Nua group (LIT, UL, Enterprise Ireland, Enterprise Boards, FÁS) has come
together to create a joined up approach in the Mid-West region to an evolving scenario of large-scale redundancies. Tús Nua is focussed on three pillars: employment; enterprise; education & training. The overall goal is to guide people through their orientation process in a coordinated and comprehensive manner and offer appropriate services, so that no valuable time is lost.
The pathways comprise:
• Enterprise: Schemes such as Enterprise Start, EPP, LEAP. Providers are the Enterprise Boards and LIT Enterprise Acceleration Centre, with Enterprise Ireland
support.
• Education: Guidance and user-friendly support mechanisms to help people access full-time or part-time 3rd level education at UL and LIT and the partner institutions.
Some HEA funding has been made available.
• Training: FÁS training and up-skilling programmes provided in Limerick and Shannon Centres and through its outreach services, or referred to VEC/adult education providers for FETAC levels 2 to 6.
• Employment: FÁS Employment Services providing individual guidance and support services through its network of offices with access to job vacancies. More
generally, the other pathways also contribute towards employability prospects.
Improve Your Job Prospects