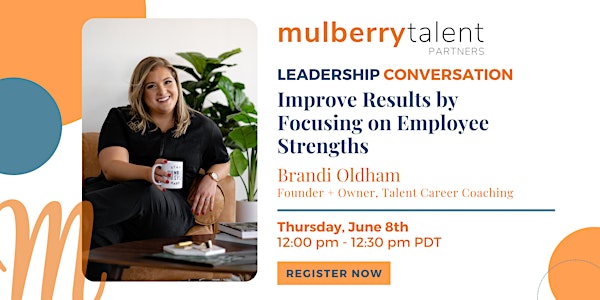 Improve Results by Focusing on Employee Strengths
Learn how to reduce turnover and increase job satisfaction with Career Coach, Brandi Oldham.
By Mulberry Talent Partners
Date and time
Thursday, June 8 · 12 - 12:30pm PDT
About this event
Leaders in today's workplace need teams to be engaged, effective, and passionate about their work. Not only does it reduce turnover and increase job satisfaction, it also increases profit for the organization. But what's the best way to do this? Focusing on employee strengths.
In our upcoming #LeadershipConversation, Career Coach, Brandi Oldham, will give us insight into how CliftonStrengths can transform your team and organization.
Brandi will also explain:
📋 Why leaning into your unique strengths DNA could increase job engagement by 6X.
📋 The importance of CliftonStrengths and why 90% of Fortune 500 companies use it to develop their workplace culture.
📋 How the results could dramatically transform you and your team by helping everyone become more aligned with their natural talents.
📋 And more!
Before becoming a sought-after Career Coach, Brandi worked in corporate HR. Her areas of expertise included recruiting, hiring, personal development, team development, and training. Brandi recognized that jobs have to get done, but after taking her own Clifton Strengths assessment, she wondered if we could design the "how it gets done" to the strengths of the individuals completing the task. Now a Gallup Certified Strengths Coach and founder of Talent Career Coaching, Brandi works to help individuals and teams learn about their natural strengths, understand how their unique talents can make an impact, and design plans to help them achieve more!
If you are a leader looking to positively transform yourself and your team, you will want to take advantage of this #LeadershipConversation on June 8th. Register today!