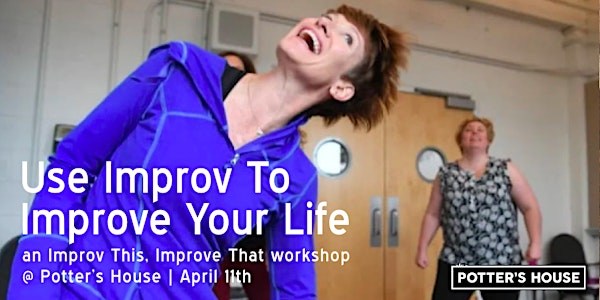 Improv This, Improve That: Playing Through Fear and Anxiety
Location
The Potter's House
1658 Columbia Road Northwest
Washington, DC 20009
Refund policy
Refunds up to 7 days before event
Description
When it comes to achieving our goals, we hear a lot about habits and routines but little about play.
Whether your goal is to manage anxiety so you can be more creative or effective, or be more present in relationships with your boss or romantically, improv can be a vehicle to reduce anxiety, find more connection, improve mood, and support change.
Come learn how to improv this moment to improve all that.
In improv, all the information and interaction is made up in the moment. The rules provide structure that makes it safe for us to open up so that we can learn about and push our edge and build skills in unexpected ways.
Through an introduction to improv games and scenes, this workshop is a physically engaging, often surprising, and highly enjoyable way to help you achieve your goals. It is for anyone who wants to explore self development, learn how to use improv games to improve their life, and have fun.
Takeaways
Learn how to play improv games and explore ways to use the tools to achieve your goals

Discover what makes you comfortable and uncomfortable and how to take healthy risks everyday

Experience any number of the benefits of improv: Get a shift in perspective, reduce stress and anxiety, feel more connected, and have more self compassion and empathy.