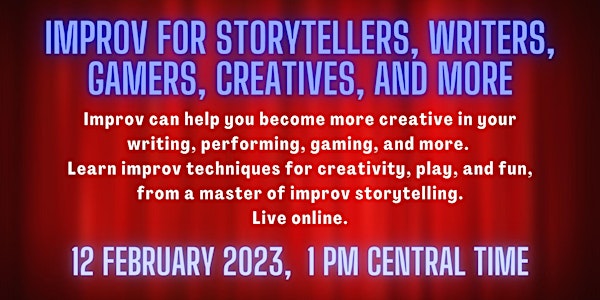 Improv for storytellers, writers, GMs, creatives, and more
Improv can help you become more creative in your writing, performing, gaming and more. Learn improv techniques for creativity, play, and fun
By Laura Packer, laurapacker.com
Date and time
Sunday, February 12 · 11am - 2pm PST
Refund Policy
Contact the organizer to request a refund.
Eventbrite's fee is nonrefundable.
About this event
It's easy to think of improv as something only comedians use and that it can only be funny, but we improvise every day of our lives. Playing around with improv can help you become a better writer, performer, gamer, and more. You'll learn to react faster, trust your own creativity, accept that wild leaps can lead to amazing places, become more resilient when something doesn't go how you expected, and to accept "yes and" as a driving principle in your work and life.
In this three hour class we will explore a variety of improv games and skills, and will discuss how you can apply these tools to your creative work. We'll talk about serious as well as silly improv and will explore how improv makes it easier to roll with the punches. Along the way you just might develop greater resilience, comfort with the unknown, and have a good laugh or two.
This class is for anyone seeking to add greater creativity, resilience, and play to their writing, storytelling, and gaming. It is not a class designed for comedians though it's likely we'll laugh together. This class is limited to 20 participants to ensure everyone has a chance to play. Participants will not be censored so there may be adult content or language, depending on the person.
Laura Packer is a master storyteller who uses improv as the core of her creative process. She has been described as "the best improv storyteller in America," and has won many awards for her performing, teaching, and coaching. Laura was the story consultant for the improvised game podcast, The End of Time and Other Bothers, and is the author of From Audience to Zeal: The ABCs of Finding, Cracfting, and Telling a Great Story. You can find out more about her at laurapacker.com.
About the organizer
Laura Packer has been telling tales since she began talking.  Her original stories for grown-ups and families are based in myth and personal experience. Laura is the author of the 2020 Storytelling World Winner From Audience to Zeal: The ABCs of Finding, Crafting and Telling a Great Story. She has appeared at events around the world, has taught in boardrooms and nursery schools, served on the board of the National Storytelling Network, has received many awards including the 2020 National Storytelling Network Circle of Excellence, and has hosted multiple storytelling venues. She believes everyone can tell a good story and that adventure is around every corner.
You can find out more about Laura at laurapacker.com or at patreon.com/laurapacker