Experience a new form of wellness event held safely at various venues around Seattle. Clear stress, refresh your mind, spark your creativity
About this event
Abbey Arts and Bandit Theater present:
Improv For Easing the Awkward
(WORKSHOP)
---------------------------------------------------
Safe, distanced, very small arts and music experiences
See COVID Safety Info at the bottom of this page under Abbey Arts Presents
Thanks for helping keep our community safe!
---------------------------------------------------
ABOUT THIS EVENT:
Have you ever been at a social event and felt drained? Or maybe a party that just felt like a drag? Wish you could have a bit more fun around other people but can't help freezing up? We have the workshop for you! Bandit Theater presents Improv for Easing the Awkward, a two-hour workshop designed to get you out of your head and into the moment. Using improv as a tool we will help you feel more confident, present, and alive! Signups are limited.
+ grab tickets for the afternoon workshop "Improv for Dating"
BANDIT THEATER IS
A 501(c)(3) organization of Seattle comedians and performers creating new works and supportive spaces centered upon the joyful art of comedy.
There are so many ways to get involved! Laugh with us at our many shows across Seattle, meet new friends and get reps in at our jams, support your neighbors by joining our community outreach programs, and stretch your creative muscles in our series of improv classes. We can't wait to meet you!
@ Ballard Homestead, 6541 Jones Ave NW, Seattle
9-11a workshop, 8:45a doors open
All ages, PG-13 (some content may not be suitable for young audiences)
Venue Preview: https://www.instagram.com/seattlewellnessevents/
Note: Your email will be shared with Bandit Theater to inform you of upcoming Bandit events and will not be sold. You may also be added to the Abbey Arts email list which has an easy single click opt-out option.
--------------------------------------------------------------------------
About Seattle Wellness Events
Creative Spark (Experiences & Classes to boost creativity) brings you all new events adapted to historic spaces, and presented with all public health safety in mind.
Audience size will be in the 30 person range to start (below 25% capacity), in large spaces rated for 180-260 people normally. Various creative activities will be included in the lobby. Some shows may be hosted outdoors when noted and weather permitting.
Pods will be spaced out in chairs & benches.
More info via www.instagram.com/seattlewellnessevents
--------------------------------------------------------------------------
EVENT & VENUE INFO:
Please refrain from talking or texting during the show.
Please enter quietly if the show has already begun.
Please leave quietly, it's a very quiet neighborhood.
For ADA information at Ballard Homestead, please see www.ballardhomestead.org/rent or email arts(at)fremontabbey.org
--------------------------------------------------------------------------
ABOUT ABBEY ARTS, SEATTLE:
NONPROFIT 501C3, NON-RELIGIOUS, EST. 2005
Presenting welcoming music, arts & cultural experiences for people of all ages & incomes.
Home Venue: Fremont Abbey, 4272 Fremont Ave North, Seattle, WA 98103 / 206-414-8325 Ballard Homestead: 6541 Jones Ave NW, Seattle | + UHeights Auditorium, St Mark's Cathedral, & more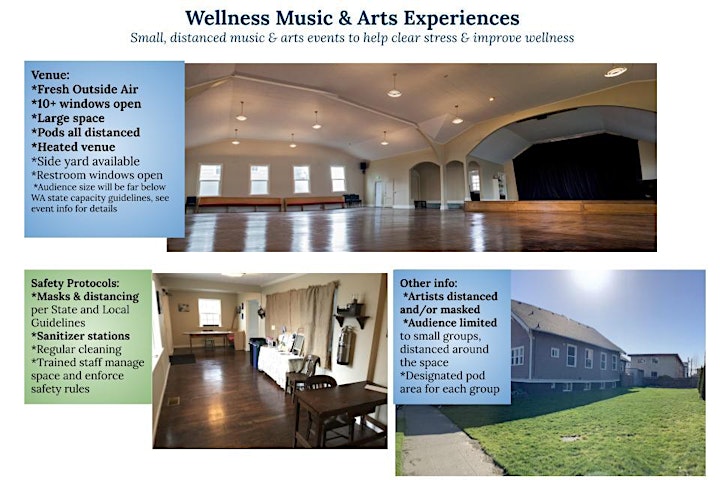 Organizer of Improv For Easing the Awkward (IN-PERSON, DISTANCED WORKSHOP)
COVID Safety Info:
As of July 30, 2021
As we reopen the doors to our venues, rest assured that we will be welcoming our patrons back in to an environment that prioritizes wellness and health. We are working with local officials to ensure current health and safety protocols are in place at Abbey Arts events, while being mindful that flexibility will be required as those guidelines will likely continue to evolve.
JULY Onwards
All current state and local health guidelines must be followed, https://coronavirus.wa.gov/
Windows will be open and lots of fresh air flowing wherever possible.
Events are at limited capacity until noted.
Vaccination Requirements:
GUESTS AGE 16+ must provide proof of full vaccination at time of entry
Full vaccination is defined as having received a final vaccination dose at least two weeks prior to the event date.
Acceptable forms of proof of vaccination include: an official CDC COVID-19 Vaccination Record Card or a picture of your vaccination card; a digital or printed WA State Certificate of COVID-19 Vaccination; a WA State Immunization Information System printout; or a verified medical record printout from a medical provider.

GUESTS AGE 2-15 must provide proof of negative COVID-19 test within 72 hours of admission
GUESTS UNDER 2 no requirements
Individual events may have additional safety measures in place, see Ticketing pages for details.
-----------------------
ABBEY ARTS, SEATTLE:
NONPROFIT 501C3, NON-RELIGIOUS, EST. 2005
Fremont Abbey | Ballard Homestead | South Park Hall | St Mark's Capitol Hill | The Auditorium @ UHeights |  & more
Independent nonprofit, non-religious, all ages/incomes. 
Low Fee Tickets! No hidden high fees like Ticktmstr. :-)
  (Note: Comedy shows may have different ticketing fees)
[ Click here to subscribe to our optional text messages. ]
[The views and opinions expressed at events are those of the artists and performers and do not necessarily reflect Abbey Arts. About Page | Respect Policy.]
Refunds may be available per event settings.
No refunds due to support act changes.
Tickets for rental events may be via their website.