Event Information
Location
Pan Theater
120 Frank Ogawa Plaza
Oakland, CA 94612
Description
The Improv Dojo is Pan's drop-in improv workshop
The Improv Dojo II is a two hour class focusing on improv scenework. You'll play, have fun, and sharpen your scene skills without having to committ to a longer class. You can attend once or come every week.

Where?
120 Frank Ogawa Plaza, Oakland

When?
2nd and 4th Saturdays
4pm to 6pm
Select other days as scheduled

200 Feet from BART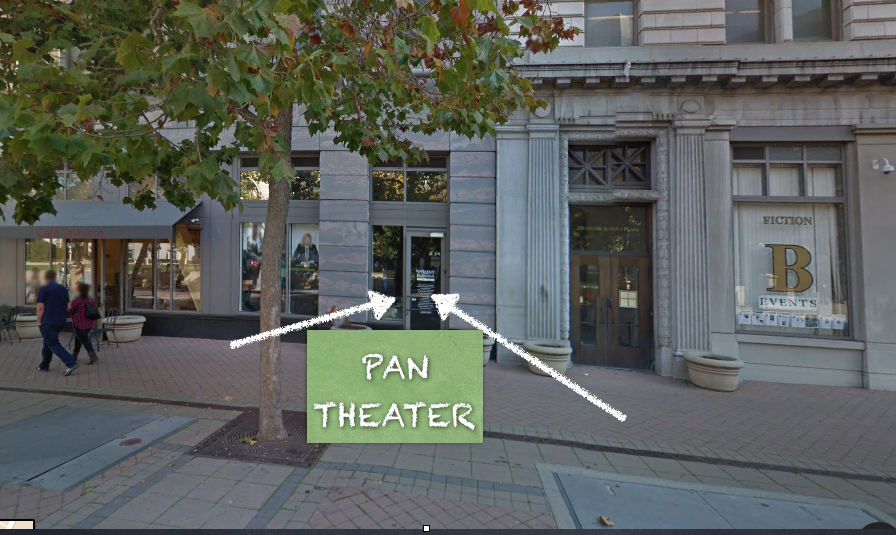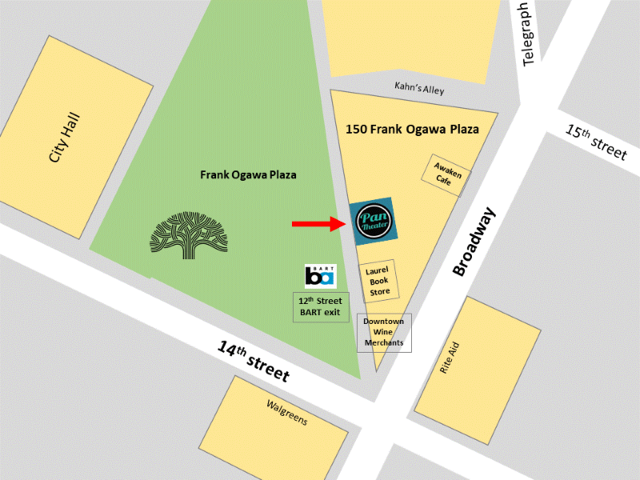 Why the Improv Dojo Scene Lab?
Improv is an art. It is an approach to creating theater without a script and in the moment. A Dojo is a place where you can study the way - in this case the way of improv (or creating theater minus the script). The Improv Dojo Scene Lab gives you a space to play, explore and have fun in a safe and supportive environment.
For improvisors looking to refine their Scenework
You'll do scenes, scenes and more scenes. You'll happily walk away with stronger skills. Some prior training is required for this class. Prior experience practicing 2 person scenes is required. We consider this serious play or focused fun. Each session you'll have a ton fun and make new friends..
Improv Dojo is super flexible
It's a drop-in class. You sign-up and pay by the class. So you can try it once and never look back. Or you might just find yourself becoming a regular. Come to a single session or come and play every week the choice is yours.

Great Great Price
Trying something new can be scary enough. The last thing you want to do is to commit to something long term before trying it out. The Improv Dojo is a super cheap way to try improv or to do it on a regular basis without breaking the bank. Class is $20. Online pre-registration required. Online tickets are available up to class start time. Door tickets are available. Door tickets are $20 at the door cash only.

Why is the Improv Dojo Scene Lab more than the Improv Dojo?
We want a smaller class and we want to focus more on scenes. The Improv Dojo Scene Lab is designed to provide more personal attention and to give you more individual feedback on your scenes.


Meet the Pan Community
You never know who you're going to meet when you attend a drop-in class. Sometimes it helps to learn by playing with more experienced players. The Improv Dojo is a mixed level class. The class is a mix of members from Pan's Playground Troupes, performing troupes, and others new to improv. You'll get to play and practice with a wide range of people. If you want to talk more improv with your new friends - Luca's is a block away.
Learn from Experienced Teachers
Learning can be tough. It helps to know your teach can not only teach but also knows what it is like to practice and perform. All of Pan's teachers perform monthly.
Fun Is Guaranteed
Paying for a class you don't enjoy is icky. Icky isn't fun. We don't want you to feel icky. If you don't like the class we'll gladly refund your class fee. Email us after class and we'll happily refund your class fee. No questions asked.
Gentle Learning
Being creative takes courage. Being creative and doing something new with new people takes more courage. We remember what it was like to be a beginner. The Improv Dojo sessions are designed to let you warm-up, get to know other players and to explore without feeling pressured. You'll be treated with respect.
Sharpen Your Skills
Learning in a hyper competitive environment is tough. It takes the fun out of improv. The Improv Dojo II - Scene Work Lab focuses on scenes. We suggest some prior improv experience. We focus on teamwork, support and making your partner look like "a poet, artist and genius". We also ask you do the same for your scene partners.


Class Specifics
The Improv Dojo Scene Lab Meets on Sundays from 4pm to 5:45pm. Class cost is $20 registered and paid in advance or $20 at the door. Pan is at 120 Frank Ogawa Plaza. We are 200 feet from BART.
The same great Improv Dojo but now you can focus on scenes. Work on your scene skills, have fun and grow an an improv actor.
Some Reasons To Take the Class
You Want to improve your scenework

You Want to Have Some Fun and Play

You Want to Work on Your Improv Acting

You Want to Create More Exciting and Funny Scenes

You Want to Think Faster on Your Feet

You Want to Let Go of Judgement
Some Things You'll Learn in the Improv Dojo

The One Phrase That Starts A Scene and Can Transform Your Life

Why Good Improv Doesn't Require Fast Talking

How You Can Easily Come Up with Dialogue On the Spot

3 Things You Can Do For Your Partner That Make Improv Easier For You

Why Trying To Be Funny Makes Improv More Difficult

Why You Already Know What to Say

Why Speaking First Is Easier Than Speaking Second

One Quick Trick to Feel More Confident in a Scene (or When Giving a Presentatio

n)

Parking
There is generally street parking available if there isn't an event at the Paramount Theater. In the event the Paramount is having an event give extra time for parking or take BART.
Ready to Sign Up?
Use the Eventbrite Ticket Form to Sign-up for Class.

Online class tickets $20. Pre-registration required. Door ticktets not available.
Register early and save $$$.
Doors close at 4pm prompt. No exceptions.


Class Refund
If you sign-up and then decide not to take the class we'll gladly refund the class fee. Refund option good for two weeks from date of class purchase. You have two weeks to ask for a refund.
Going to Miss Your Class?
You can transfer your class ticket to a future session if you miss a class. You can also give your ticket to a friend or family member if you can't take the class. Email us with your class ticket info and we'll hold your credit for up to one year.
Date and Time
Location
Pan Theater
120 Frank Ogawa Plaza
Oakland, CA 94612