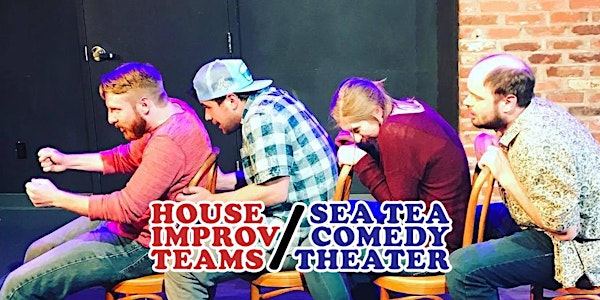 Improv Comedy Night
When and where
Location
Sea Tea Comedy Theater 15 Asylum Street Hartford, CT 06103
Refund Policy
Refunds up to 1 day before event
Description
The best improv comedy talent in Connecticut: Sea Tea Comedy Theater's Improv Comedy Night!
Improv Comedy Night features our house improv teams -- performers assembled and chosen by Sea Tea Comedy Theater's artistic directors to put on amazing shows for you! These teams get together, take your suggestion and run with it!
Improv Comedy Night shows feature each group doing their own set of improvised comedic scenes. Some shows even feature special finales like one-night-only combinations of that show's teams or jams & lotteries with chances for audience members to come up and perform (if they want)!
These improv comedy groups have performers that have studied improv comedy at Sea Tea Improv Studios and other comedy training programs. They have performed at the Hartford Improv Festival and other improv festivals. Every night is different -- that's their specialty!
Improv Comedy Night Show Schedule
FRI, AUG 24 @ 7 p.m.
Meg(h)an
Albatross
FRI, AUG 24 @ 9 p.m.
Meg(h)an
Cloud 9
Albatross
FRI, AUG 31 @ 7 p.m.
Brain's Song
History of the Future
Grantch
FRI, AUG 31 @ 9 p.m.
Sea Tea Improv Touring Company
Da King in Da Norf
SHED
FRI, SEP 7 @ 9 p.m.
Grantch
Brain's Song
The Rumour Cauldron
Romantic Baby
SAT, SEP 8 @ 9 p.m.
The Buddy System
KnucklePuck
History of the Future
Dinosaur Police
FRI, SEP 14 @ 7 p.m.
Less Lonely Boys (debut show!)
Albatross
Blind Date (debut show!)
FRI, SEP 21 @ 7 p.m.
Part Time Lifeguards
Mystery Switch (debut show!)
Rooster (debut show!)
HOBI (debut show!)
SAT, SEP 22 @ 9 p.m.
Winnipeg
Robot Love
Fruits and Veggies (debut show!)
SAT, SEP 29 @ 7 p.m.
Meg(h)an
Average Age 50 (debut show!)
BOOP!
Sea Tea Improv Touring Company
FRI, OCT 5 @ 7 p.m.
Mystery Switch
Robot Love
Part Time Lifeguards
SAT, OCT 6 @ 7 p.m.
Blind Date
Breakup Tattoo
The Buddy System
SUN, OCT 7 @ 7 p.m.
Sea Tea Improv Touring Company
Average Age 50
Improv Jam! (Anyone in the house can play!)
FRI, OCT 12 @ 9 p.m.
Winnipeg
History of the Future
Fruits and Veggies
SAT, OCT 13 @ 7 p.m.
Brain's Song
Fairfield of Dreams
Less Lonely Boys
FRI, OCT 19 @ 7 p.m.
Albatross
HOBI
Romantic Baby
SAT, OCT 20 @ 9 p.m.
Meg(h)an
The Rumour Cauldron
Dinosaur Police
FRI, OCT 26 @ 7 p.m.
Grantch
Cloud 9
KnucklePuck
===
Frequently Asked Questions (FAQ) about shows at Sea Tea Comedy Theater: https://seateaimprov.com/faq/