NOVEMBER ONLINE CLASSES Kids ages 7-11. Treat your kids to much needed laughs while they learn valuable life skills
About this event
NOVEMBER RATES & SCHEDULED
$75 includes ONE of the following weekly schedules. $125 includes UNLIMITED ACCESS throughout November (Sign up for your preferred day/time and pop in any time)
Sundays 5-6pm November 1, 8, 15, 22 IMPROV COMEDY
Mondays 5-6pm November 2, 9, 16, 23 IMPROV COMEDY
Wednesdays 5-6pm November 4, 11, 18, 25 IMPROV COMEDY
Saturdays 10:30-12pm CENTRAL PARK Nov 7, 14, 21 (THREE CLASSES)
Saturdays 1-2pm ONLINE November 7, 14, 21, 28 STAND-UP COMEDY OPEN MIC
Improv 4 Kids has been playing Off Broadway in Times Square since it's debut at the Lamb's Theater in 2004. The show played its first school assembly in 2003. In 2011, the comedy school for kids & teens opened in Times Square.
Improv Comedy is a ton of fun. While sharing and creating the laughs, students develop creative writing, critical thinking, public speaking and self confidence. We use these same games to teach corporate groups team, leadership, sales and service.
In many classes we include Stand-Up Comedy. We help student turn personal stories of experience and observation into original comedy routines in just four weeks.
Get our text books FREE via Amazon KindleUnlimited CLICK HERE or $7.99 Paperback. Valuable resources for students and teachers of comedy geared to a K12 audience.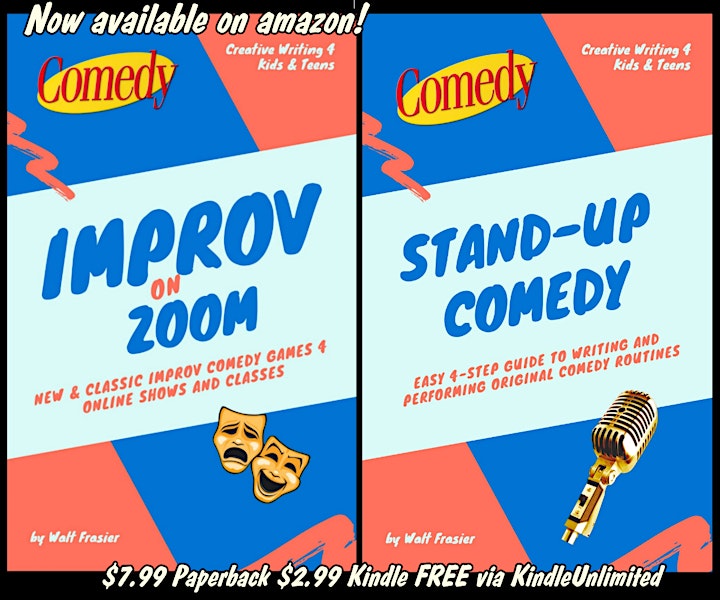 Walt Frasier
Artistic Director Piano, MC, Teacher, EIGHT IS NEVER ENOUGH Cast Member since 2002
TV credits: Billions 4.10 (2019 CBS), Friends of the People (TruTV), Blue Bloods (CBS) Royal Pains (USA), Lilyhammer (NETFLIX), Naked Brothers Band (NICK), Fat Pants (Dr. Oz Promo), Late Night with David Letterman (9 eps), Hair Trauma (2 eps, WE), Stankervision (MTV2). International credits in Theater and Music - LMAO Off Broadway (Improv Comedy), Scarlet Pimpernel (2nd Nat'l), Fiddler (gateway Playhouse), Amalfi Opera Festival, NYC Fringe), Fave Roles - Rodolfo (La Boheme), Harold Hill (Music Man), Prince Karl (Student Prince), Frederic (Pirates of Penzance) and dozens more.
Walter is a New Yorker since 1997, but grew up in Maryland, getting his theatrical start in the Washington DC area (Montgomery College, Catholic UA and regional theaters). If you have called to book a gig or group sales you most likely talked with this guy. Walter has been performing Improv Comedy for kids & teens since 2003. In 2009 he was named Director of Instruction for the Comedy Hall of Fame, developing their programs for NYC schools. In 2011 he opened his own school. Walter currently works all over the NYC area, including in residencies via Arts Horizon. Now his students are winning competitions, getting recognized by Kenan Thompson as America's funniest kids. One student even appeared on Aziz Ansari's MASTER OF NONE on Netflix.
Also a corporate team building specialist, Walter uses these same comedy games to teach Leadership, Team, Sales and Customer Service. Corporate Clients include JP Morgan Chase, UBS, Ernst & Young, Morgan Stanley, NY Life, Coach, Louis Vuitton, HBO, Twitter, Home Depot, Milbank and 100s more.
Beyond the brag-able credits, it is Walt Frasier's goal to create laughs and teach other to spread his positive message. Start every day with a smile. Want others to smile at you? LEAD BY EXAMPLE!!!