Description
Come be a part of the show!!!
Hilarious interactive musical comedy improvised off-broadway based on audience suggestions and participation.


EVENTBRITE EXCLUSIVE
General Admission just $5. Tickets Regularly Priced $25. Purchase Voucher - at least 2 hours before showtime - present at the theater 30-45 minutes prior to show time. This is better than the troupe offers for group sales. General admission tickets require a drink minimum sponsored by nycomedytickets.com and corporate-comedy.us
WANT TO PERFORM? Why not take a class in comedy. These classes start all with Improvisation to help find your comedy voice. You can drop in a class almost any weekend. Every one signed up for full sessions will get to perform on a showcase. Starting this fall we have monthly showcases for both kids & adults!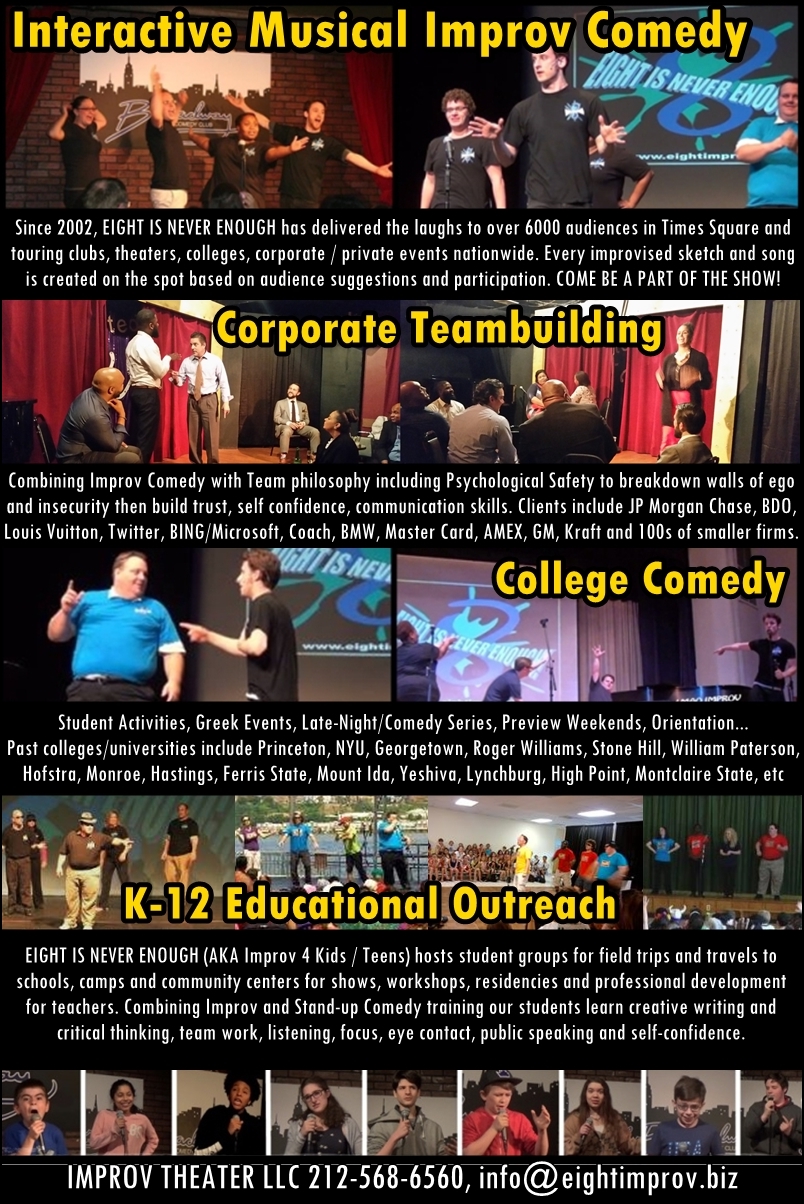 GROUP & PRIVATE EVENTS
The Eventbrite Discount rate is below the normal group rate for general admission. If you want to organize a college, corporate or family group to a public show, just buy tickets here. For private events and special catering options at our Times Square theater or to bring this show to you nationwide, email eightimprov@gmail.com for more information
Also check out our K-12 outreach Programs for Schools, Camps and Community Organizations
$35 ticket includes a drink and best seats in the house.

This site offers better than the typical group rates. So if you are just looking for a small group to attend a public show, simply purchase tickets here.
Are you looking for a holiday party, corporate team building etc?
Email eightimprov@gmail.com
Walt Frasier, the artistic director of EIGHT IS NEVER ENOUGH IMPROV, has an extensive client list, using Improv comedy to teach team, leadership, sales and service to HSBC, Macy's, 360i, JP Morgan Chase, IBM, Morgan Stanley, Master Card, American Express, NYC Schools (DOE VENDOR), Microsoft/BING, Twitter, Louis Vuitton, Coach, Home Depot, Enrst & Young, GM, KRAFT, UBS, UNILEAVER, HBO, and 100s more
Learn more about how Improv comedy teaches PSYCHOLOGICAL SAFETY
---

Comedy Clubs

This show plays weekly in Times Square at the Broadway Comedy Club. It works on the smallest of stages and rooms

Theaters

This show has played in Broadway Sized (500-2000) Main stages at colleges and theaters nationwide.

Ask about our family friendly programming amazing for daytime series

Colleges and Universities

Main Stage Events

Comedy / Late Nite Programming

Greek Events / Student Activities

Homecoming

Orientation, Preview Weekends

Corporate Events

Office / Holiday Parties

Team Building

Training in Sales, Service, Leadership and more

Family Events

Reunions

Birthdays

Weddings

Bar/Bat Mitzvahs
PAST COLLEGES & UNIVERSITIES
Yeshiva University, NY, Pace University, NY - 5 shows for student group, orientations summer 2011, NY
Vaughn College, NY, St. Johns University, NY, Hofstra University, NY, Pratt University, NY, Princeton University, NJ, William Paterson Univesity, NJ, Montclair State University, NJ, Bloomfield College, NJ, College Misericordia, PA, High Point University, NC, University of MD, MD, Georgetown University, DC, Roger Williams University, RI
Mt. Ida College , MA, Williams College, MA, Stone Hill College, MA, Southern New Hampshire University, NH, University of Vermont, VT, University of Dayton, OH, Ursuline College, OH, Hastings College, NE, Virginia Wesleyan, VA, Lynchburg College, VA and more...
Past Corporate Clients
Coach, Louis Vuitton, Twitter, JP Morgan Chase, Morgan Stanley, Home Depot, Mastercard, BDO, AMEX, GM, Kraft, Edy's Grande Ice Cream, and 100s more smaller firms nationwide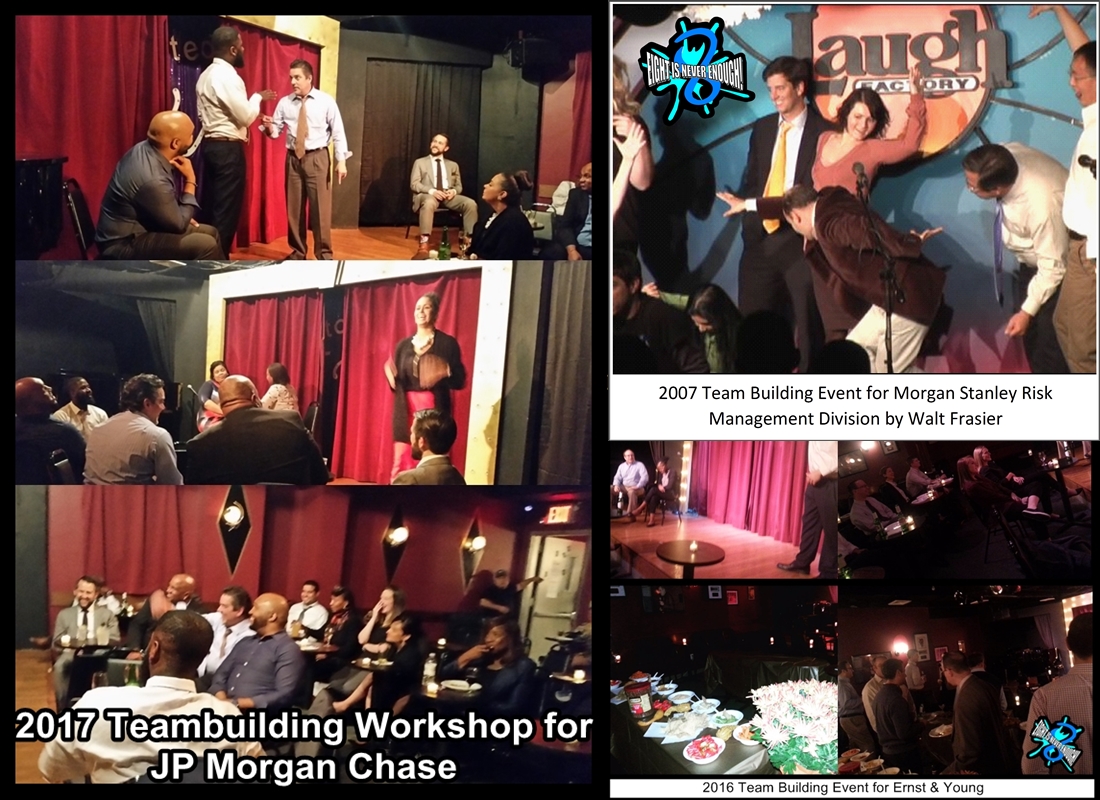 Artistic Director Walt Frasier