Description
FUN FOR THE WHOLE FAMILY!
Hilarious interactive musical comedy the entire family can enjoy improvised based on audience suggestions and participation.
Saturdays/Sundays 3pm
Broadway Comedy Club
3`8 West 53rd Street
Doors open at 2:30. There is a ONE drink minimum and he club serves light snack menu.
$25 plus one drink minimum
JUST $10 via EVENTBRITE.COM
Bring stduent groups or have your next birthday party with Improv 4 Kids.
CLICK HERE for NYC DOE VENDOR PRGRAMMING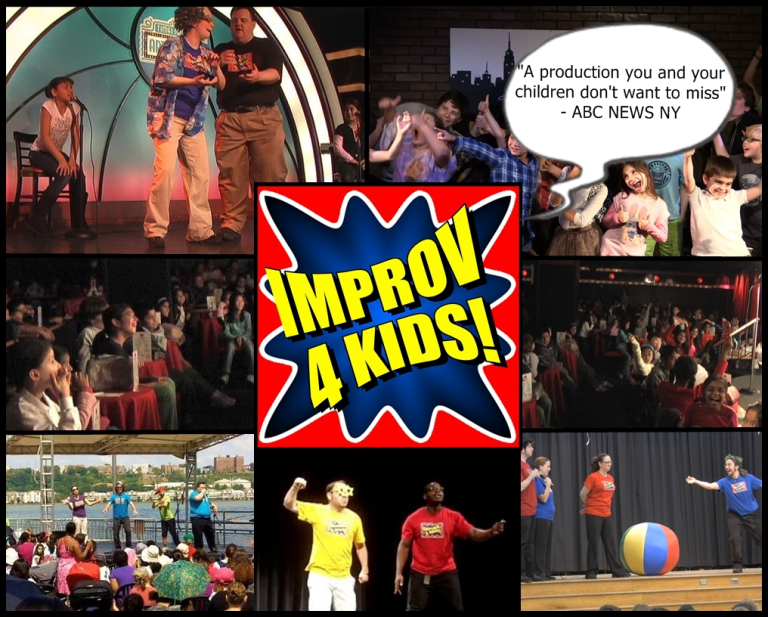 We have been hosting New York area schools at our Times Square area theater since 2005. Each show is created on the spot based on audience suggestions and participation. Students are excited to see live comedy. In the process they are exposed to amazing music and theater.
WORKSHOP $300 up to 2 hours, 20 students, $15/additional student
While having a ton of fun playing Improv games, students learn creative writing, critical thinking, team communications, public speaking, listening, focus and self confidence. This is very similar to the workshop we present for corporate groups to develop team, leadership, sales and service skills. Full workshops recommended for grades 3 and up.
DAY TIME FIELD TRIPS $600 up to 50 students $12/Additional Student
MONDAY - FRIDAY 10:30 Show is followed by a mini workshop element and time for students to eat their lunches in the theater We have two theaters/casts and can seat up to 240ppl (inclusive of chaperones) at one time. SHows are fun for all ages Pre K and up. The shows are customized for the age group.
THE COMPLETE PACKAGE SHOW, WORKSHOP PIZZA for just $25/student (minimum 10 students for group rates evening/weekends, minimum 30/$750 for daytime field trips) Each group will get their own private teacher for a 60-minute workshop. Then enjoy NYC Pizza and beverage while helping create an original Improvised comedy show. The professional cast performs original skits and songs improvised on the spot based on audience suggestions and participation. To book email us your choice of dates, number of students/chaperones, grade level and prefer program from the above. Ask about rates for larger groups Title 1 and other special needs.