Event Information
Refund Policy
Refunds up to 30 days before event
Develop creative writing and performance skills while discovering your inner comedic genius!
About this Event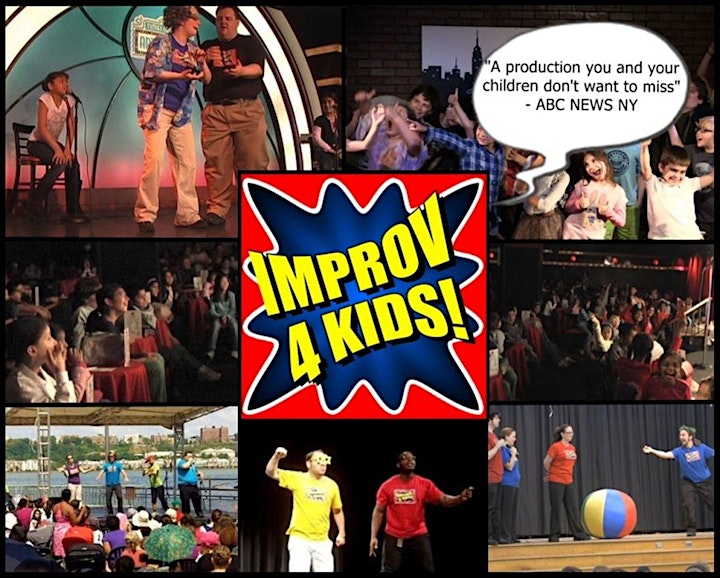 UPCOMING SESSION
SUNDAYS 5-6pm April 11, 18, 25, May 2
MONDAYS 5:30-6:45pm April 5, 12, 19, 26
$75 Sundays OR Mondays Only
$125 Unlimited Access (Additional sessions Wednesdays/Fridays 6-7)
ZOOM revealed after registration.
SUNDYS 5-6pm
MONDAY 5:30-6:45pm
Students will play a series of games including warm-up, technique and performance. Develop strong foundations in acting and improvisation as well as creative writing, critical thinking, public speaking, team skills.
WEDNESDAYS Bonus Session 6-7pm IMPROV COMEDY JAM
While Monday is more focused on Technique building, Wednesdays are more of a jam session. After a brief warm up, students will mostly participate in games they could play in a show., as well as learn how to MC games.
FRIDAYS Bonus Session 6-7pm STAND-UP COMEDY
Fridays will focus first on stand up comedy. With some basic guidance and feedback, these session will mostly be run as an open mic style session. Every teen will have 3- 5 minutes to share a comedy routine they are currently working on. If there is a large turn out these class could run as late as 8:30pm.
MORE INFO AT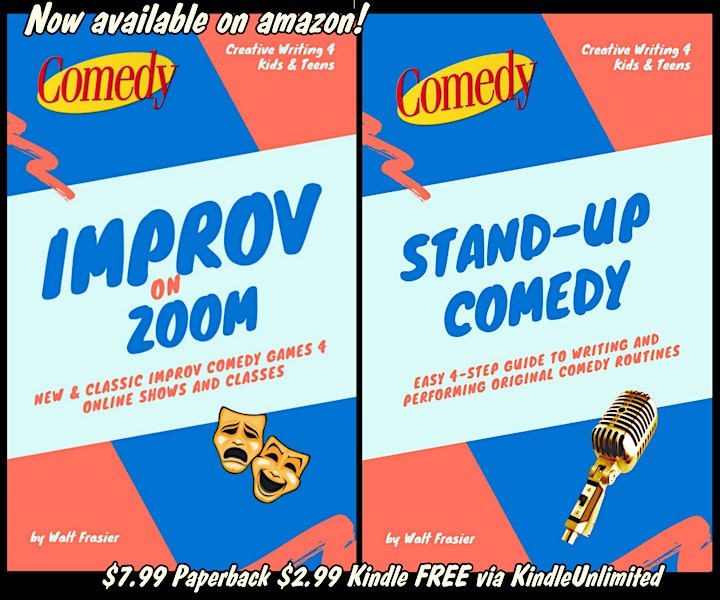 Improv 4 Kids (2 Book Series) now available on Amazon FREE via KindleUnlimited
Stand-Up Comedy by Walt Fraser is a text book for comics and teachers looking to bring fun creative writing sections into the classroom.
Improv on Zoom by Walt Frasier is a list of games with tips and tricks to play online as well as Improv technique and wisdom.
Walt Frasier has been teaching kids, teens and adults for 18 years. In addition to his comedy school in Times Square (NOW Online) Frasier has worked with hundreds of corporate teams, colleges and K12 schools.
EMAIL eightimprov@gmail.com to book private shows/workshops for schools, camps, community centers and family events can be scheduled anytime for just $200. Up to 100 guests can interact with the artist and enjoy the 45-minute show. (regular $600-800/show LIVE in time square or at your venues)
MORE from EIGHT IS NEVER ENOUGH improv including adult classes and shows for corporate groups, colleges etc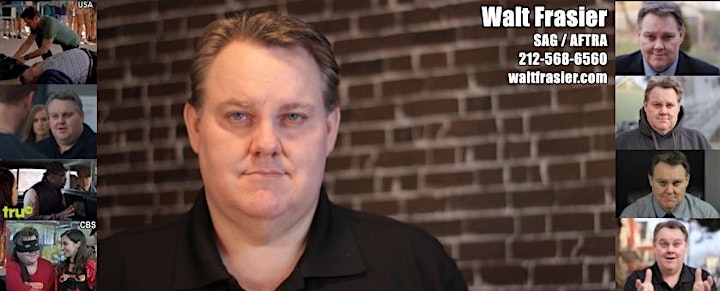 Walt Frasier, Artistic Director Piano, MC, Teacher EIGHT IS NEVER ENOUGH Cast Member since 2002, hosting 5000+ of the 6500+ shows in the company's history.
TV credits: Billions 4.10 (2019 CBS), Friends of the People (TruTV), Blue Bloods (CBS) Royal Pains (USA), Lilyhammer (NETFLIX), Naked Brothers Band (NICK), Fat Pants (Dr. Oz Promo), Late Night with David Letterman (9 eps), Hair Trauma (2 eps, WE), Stankervision (MTV2).
Walter is a New Yorker since 1997, but grew up in Maryland, getting his theatrical start in Washington DC area. If you have called to book a gig or groups sales you most likely talked with this guy. Walter has also performed internationally in theater, music and even Opera. walter has been performing Improv Comedy for Kids & teens since 2003. In 2009 he was named Director of Instruction for the Comedy Hall of Fame, developing their programs for NYC schools. In 2011 he opened his own school. Walter currently works all over the NYC area, including in residencies via Arts Horizon. Now his students are winning competitions, getting recognized by Kenan Thompson as America's funniest kids. One student even appeared on Aziz Ansari's MASTER OF NONE on Netflix.
HAVE FUN but never at another's expense!
Beyond the braggable credits, it is Walt Frasier's goal to create laughs and teach other to spread his positive message. Start every day with a smile. Want others to smile at you? LEAD BY EXAMPLE!!!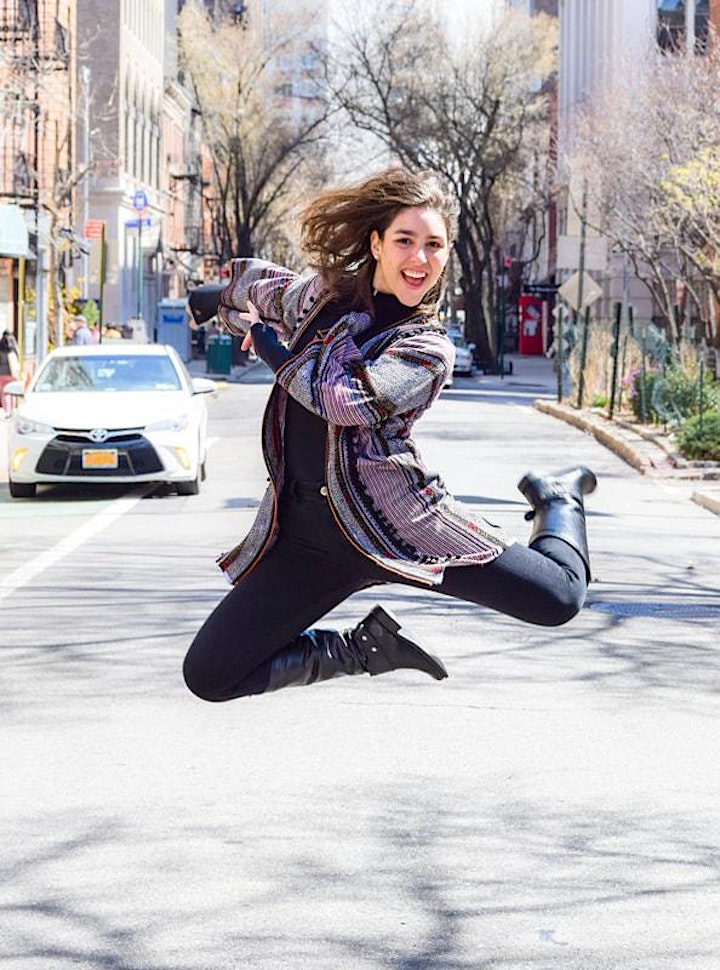 Andrea Hernandez Mieres, MC, Movement/Dance specialist, Improv - Andrea is a Mexican & Spanish singer, actress and dancer. Originally from Mexico City where she debuted professionally on the Musical Theater scene in the Mexican Broadway versions of The Fiddler on the Roof and The Scarlet Pimpernel. Recent AMDA NY graduate, Andrea is venturing on the New York City scene. Andrea has been with EIGHT IS NEVER ENOUGH Improv since early 2019. She appeared in our Holiday Show, Santa's Sing Along Adventure, as a singing and dancing Elf.
Location
Refund Policy
Refunds up to 30 days before event