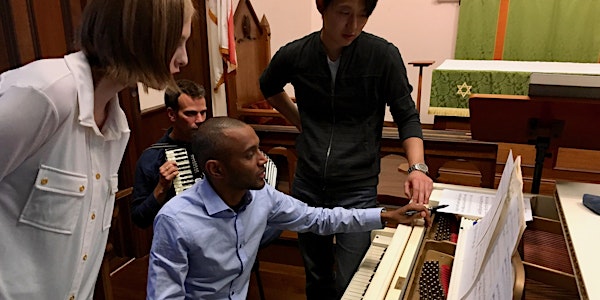 Impromptu in Practice: Improv for the the Cross-Disciplinary Musician
Learn interactively about the concepts, strategies, and techniques of improvisation from master musicians Nick Halley and Dinuk Wijeratne.
By West Claremont Center for Music and the Arts
Date and time
Starts on Wednesday, February 3, 2021 · 3:30pm PST
Refund Policy
Contact the organizer to request a refund.
Eventbrite's fee is nonrefundable.
About this event
Beginning on February 3rd at 6:30pm ET/ 7:30pm AT, the Bach Tree takes a new form for pandemic times and invites musicians from far and wide to connect digitally throught the Bach Tree Online Academy. Space is limited to keep group size small. Scholarships Available : Apply Here.
In this fully online and live 4-session course, participants will learn interactively about the concepts, strategies, and techniques of improvisation from master musicians Nick Halley and Dinuk Wijeratne. This program is open to improvisers, composers, and curious learners of all ages, with a cross-disciplinary bent. Session length is approximately 75 minutes each week. Participants will delve into professional-level strategies for improvising at their full potential.
Session 1 - Introduction & Overview
A cross-disciplinary approach to improvising, presenting composition and improvisation as 'opposite sides of the same coin'. Participants will be expected to bring musical sketches for the forthcoming sessions.
Session 2 - Techniques (Part 1 of 2)
Developing melodic, rhythmic, and harmonic ideas into highly personalized content for improvising. How to transcribe and analyze. Exploring the creative possibilities of techniques of ideation and iteration, using participant material as examples.
Session 3 - Techniques (Part 2 of 2)
Further analysis, critique, and development of prepared material by participants.
Session 4 - Professional level strategies
How to define your artistic voice. Placing improvisation in a larger context. Curating concert programs. Striking a balance between unity and variety.
Free Bach Tree Introduction available: 6 Essentials of Creativity zoom chat recording, and Meet the artist recording. In these live recordings Dinuk Wijeratne and Nick Halley will introduce you to the Bach Tree program and give you insights on ways you can approach your creative process as a musician.
About Bach Tree Online Academy
In response to the pandemic we are introducing: 2020/21 Bach Tree Online Academy. The Academy will offer topics during early 2021, and offer a month of exploration into that topic. Participants will work with the instructors to get the most our of the featured topic for their personal creative needs and to hone their artistic output. Content will be provided weekly and will be available to registered participants live over zoom. Recordings will be available following the sessions.
Who is this for?: Bach Tree is for curious, ingenious learners who love to think in a cross-disciplinary way and want to expand and diversify their skill set. It is best for students with a solid music foundation under their belt (Advanced High School and University level students) through professional musicians and educators. We'll have groups and offerings tailored to the skills of most interest to you. This is a great opportunity for teachers to get professional development hours, for professionals to explore new/expanded areas of musicianship, and for students to leap off the written page. 
Step far beyond the musical page to develop your creative and collaborative skills and amplify your craft. In this program you will work with internationally acclaimed and well-travelled musicians Dinuk Wijeratne and Nick Halley. An intensive workshop using the extraordinary Bach Canons as a foundation for performance, composition and improvisation, with an aim to broaden the skill set and imaginations of all participants. This program will combine group and one-on-one learning tailored to the individual's goals and interests including styles of improvisation, composition, and performance techniques. Participants work on elements of their project in-between meeting times, and the program culminates in a showcase presenting work created in this weekend workshop. It is our hope that if guidelines allow that we will be able to offer some in person instruction for those able to attend in late spring. We'll continue to offer digital access to key components on that weekend. Questions? contact melissa@wcc-ma.org
About the organizer
WCCMA was founded in 2008 as the Summer Concert Series at Union Church as an organization presenting outstanding musical performers. In the fall of 2011 SCSUC official adopted the identity of the West Claremont Center for Music and the Arts and expanded to include music and arts programs. Workshops are available in a variety of disciplines, and are offered for the general public and/or youth. We are committed to improving access to the arts by offering programs with no admission charge so that no one is excluded from participating based on financial factors.
WCCMA provides professional perfomances and arts education; much of it with admission by optional donation. Programs are offered for youth and the general public of all experience levels.