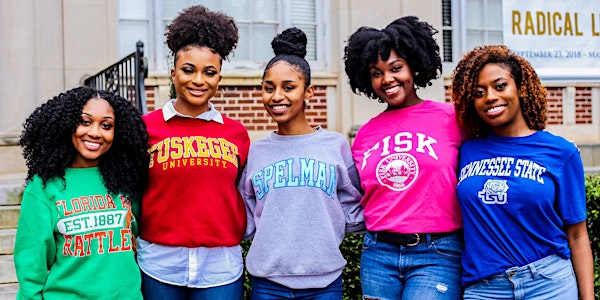 Impressions of Beauty™ Beautiversity Conference
The Beautiversity™ Conference 2020 is the premier college girl's weekend that you'll never forget! PERIOD.
When and where
Location
Atlanta Marriott Marquis 265 Peachtree Center Avenue Northeast Atlanta, GA 30303
About this event
Join us for the first annual Impressions of Beauty Beautiversity Conference, a one-of-a-kind conference experience created for multi-cultural college women! Yes, this conference is called Beautiversity but, it's about much more than just beauty. This weekend will bring thousands of collegiate women together to and is designed to educate, empower, entertain and encourage you to live your best life from the inside out.
More about this conference:
What to Expect: Beautiversity is a 3 day-long conference focused on the advancement of women through education and entertainment with a University theme. Everything from brand building to academic guidance to the future of beauty. Attendees ("students") will pay a one-time "tuition" fee and will be able to choose their own course curriculum by self-selecting the four Beautiversity classes they want to take. All students have the chance to win a scholarship for their education or business advancement; students can collect points that will go towards their GPA and boost their chances of winning the scholarship.
Conference Course Selections: Our conference courses are first-come, first served. Attendees will self-select their classes at a later date and time. Those who purchased VIP or VIP+ will be given first priority to select their classes. Our conference course tracks will include:
Beauty
Professional
Lifestyle
Conference Schedule (subject to change)
Move-in Day
3-10 PM Registration for Classes (conference registration)
4-8 PM Welcome Move-In Mixer at pool
9-10:30 PM VIP* Mocktail (ONLY for VIP* ticket holders)
The First Day Of School
7-9 AM Registration for Classes (conference registration)
7:30 - 8:45 AM Sponsored breakfast (for VIP ticket holders only)
9-9:15 Conference Welcome
9:15-10 AM Opening Keynote Lecture
10:10- 11 AM Lab Breakout Session 1
Professional Track
Beauty Track
11:05-12:05 PM Lab Breakout Session 2
Beauty Track
Lifestyle Track
*Sponsor & vendor activations open
12:10- 3 PM Lunch (Sponsored lunch ONLY for VIP* ticket holders)
3:05-3:50 PM Panel Lecture
4:30-5:30 PM Pep Rally Fitness Session/School Linedance Session
*Get ready for the night
5:30-7:30 PM Dinner on your own
8:30- 11:30 PM Talent Showcase
Final Day of School & Graduation
8-8:50 AM Breakfast
9-9:15 Welcome/Opening
9:15- 10:20 AM Opening Keynote Lecture
10:30- 11:30 AM Lab Breakout Session 3
Professional Track
Beauty Track
11:35 AM- 12:35 PM Lab Breakout Session 4
Professional Track
Lifestyle Track
12:30 Campus Beauty Supply Store Experience Opens
12:40- 3 PM Lunch/Vendors
3:05- 4:30 PM Student Entrepreneur Pitch Competition
*Office Hours - Resume Review Session with Corporate Guests - Must be pre-resgistered to attend. Printed resume required.
4:35- 5:30 PM Commencement Address
5:30- 6:00 PM Graduation Class Picture
6:00- 7:30 PM Dinner on your own
*Get ready for the night
8:30- 11:30 PM Pink Out Graduation Party & Concert
Food: Lunch and snacks will be provided for VIP and VIP+ ticket holders. Lite breakfast will be provided daily. Small bites and drinks will be provided to all attendees who attend the closing Pink Commencement Party on Sunday night.
Parking: Parking at the Marriott Marquis Hotel $22/day. We recommend carpooling or uber/lyfting.
Lodging: All conference attendees should stay at the Marriott Marquis Downtown Atlanta (265 Peachtree Center Ave SW Atlanta, GA 30303) where the conference will be held. We have 3 jam-packed days of fun and networking planned and we do not want you to miss an activity due to the daily commute! We have secured a room block for $169/night when you mention Impressions of Beauty Beautiversity Conference. For more info: CLICK HERE.
Refund Policy: Tickets to any Beautiversity are non-refundable, but they can be transferred to another party up to one month before the event. Just email us to let us know and you are good to go.
Sponsorship Inquiries: Contact info@beautiversityconference.com for partnership and sponsorship information.
See you in July!
Got additional questions? Email info@beautiversityconference.com and allow for 2 business days to receive a response.
FAQs
When will the conference take place? Where is it located?
The 2020 Beautiveristy Conference will take place July 24-26 at the Marriott Marquis in Atlanta, GA.
What do I need to bring with me?
Check out our Beautiversity Packing List!
How can I register? What are the registration rates?
Please visit the registration page for deadlines, rates, and other registration information.
I purchased a ticket and now I can't make it to the conference. What will happen to my ticket?
No refunds will be given at anytime. Tickets are transferable to another person up to one month before the conference. Any point afterwards the tickets are non-refundable and non-transferable.
How can I reserve a hotel room, and what are the rates?
Please visit the Beautiversity Conference Travel page for information.
I only want to attend one day of the conference, is that possible?
Yes, one-day conference registration is available. Please note that your registration is valid only for sessions and events on that day and badges will be actively checked throughout the conference to ensure that participants have registered properly.