Description
Free admission for K-12 teachers to the Impossible Science Festival is made possible courtesy of the Teacher Partner Program. By registering for this event, you agree to join the free Teacher Partner Program. See below for additional details.
Additional tickets for friends and family may be purchased in advance or day-of at the Fleet ticket counter.
Already a Teacher Partner with the Fleet Science Center? You are all set to attend the Impossible Science Festival! This event signup is for new Teacher Partners only.
---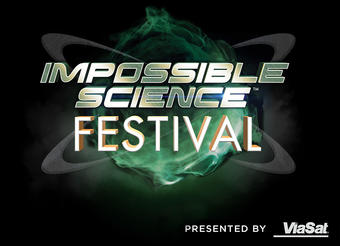 Join the Fleet's Curator of Impossible Science, Jason Latimer, as he hosts our third annual Impossible Science Festival presented by ViaSat, taking place at the Fleet Science Center!
Learn how to make objects invisible.
Experience what it's like to walk on water!
Explore levitation.
All of the festival fun is included in Fleet admission (along with Game Masters, Dream! Design! Build and all of the Fleet's interactive exhibits)
The Impossible Science Festival is a unique, hands-on, interactive event that explores the science behind the seemingly impossible. Visitors will have the opportunity to learn how to turn objects invisible, explore levitation, play with the science of mind control, discover impossible figures and even learn how to walk on water. This event will examine the question "what is possible?" and use visual and interactive experiences to show how the seemingly impossible can become possible through curiosity and knowledge.
"The goal of the Impossible Science Festival is to promote education through curiosity," said Jason Latimer, host and designer of the Impossible Science Festival. "By exploring subjects that seem impossible but showing how they can be made possible through science, visitors will have a memorable, hands-on learning experience that will blow their minds!"
The event will be based around five themes: invisibility, levitation, animation, transformation and super powers, and each theme incorporates demonstrations that festival attendees will be able to observe or try for themselves.
For invisibility, attendees will be able to use the refractive properties of Pyrex to make objects disappear in corn oil. They can also learn how to manipulate light—a precursor to invisibility—using a laser pen and tonic water, or make the invisible come to life with a homemade laser microscope.
For levitation, visitors can experience how concepts like the Bernoulli principle, static electricity and air pressure can make objects like ping pong balls, and tinsel appear to levitate!
The animation stations will use static electricity to make tissue paper dance, surface tension to make objects scoot along a water surface and sound waves to make a toothpick dance across a wine glass—plus you can learn how a battery, a magnet and a screw can be designed to make a small motor.
The transformation stations will show attendees how to make a square bubble or a fireproof balloon. And visitors can harness their own super powers when they create energy from pennies or walk on liquid Oobleck.
The event will take place from 11 a.m. to 5 p.m. in the theater lobby of the Fleet Science Center. In all there will be more than 20 interactive demonstration stations for visitors to experience.
The Impossible Science Festival is presented by ViaSat.
---
Teacher Partner Program
The Fleet loves teachers! We're collaborating with you, with parents and with community leaders to provide training, tools and programmatic support to educators in order to get kids excited about the possibilities of science.
One of our offerings just for you is our Teacher Partner Program! Sign up for this program, and you'll receive:
Unlimited individual gallery admission throughout the year
One free IMAX film admission
A $10 discount on a new family membership (which offers even more great benefits)
A 15% discount on purchases in the North Star Science Store
An invitation to our annual Open House event
A complimentary subscription to our monthly Educator E-News
And more!
How to Join the Teacher Partner Program
Register for this event and you'll receive free exhibit gallery admission and your free IMAX film voucher when you arrive at the Fleet Science Center ticket counter on September 23 or 24. You may use your film voucher the same day or save for a future visit. Show your school or union ID to save 15% on purchases at the North Star Science Store.
To receive your $10 discount on a new family membership, call the Fleet's Membership Office at (619) 685-5713, Monday through Friday, and let them know you're a Teacher Partner. Learn more about the benefits of a Fleet family membership.
Your monthly Educator E-News subscription will begin within 30 days of your visit. Our Open House is held annually in fall; check your email for your invitation to this fun, free event.
The Teacher Partner Program is open to K–12 teachers working within a 200-mile radius of the Fleet Science Center. Contact information and school or union ID or a recent pay stub are required to join.