Join us for a panel discussion with three parents of LGBTQ+ children who will discuss their journeys and share their expertise.
About this event
Webinar Title: Important Strategies for Family/Caregivers and the Family Peer Support Workforce Working with Families of LGBTQ+ Children
Webinar Description: Join us for a panel discussion with three parents of lesbian, gay, bisexual, transgender, queer, or questioning (LGBTQ+) children who will discuss their own journeys and share their expertise with the audience. Attendees will hear important information that will build understanding about what a family may be experiencing after their child discloses that they are LGBTQ+. Panelists will also discuss the importance of support from others with lived experience, including strategies that Family Peer Supports should consider when working with families of LGBTQ+ children and youth.
Learning Objectives:
Learn from lived experience of parents/caregivers of LGBTQ+ youth
Learn about navigating parental relationships when their children come out, including the support of others with similar experiences
Gain strategies the Family Peer Support Workforce can use when working with families of LGBTQ+ children and youth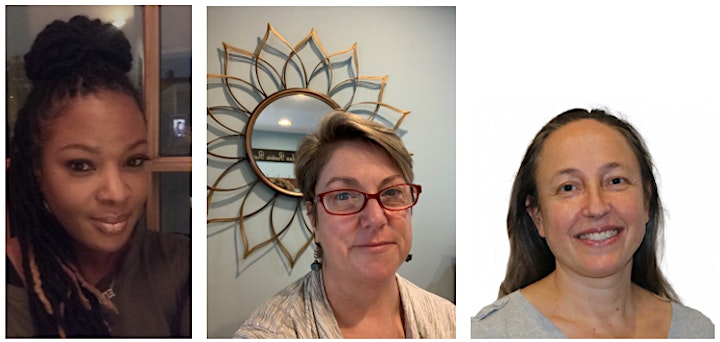 Meet the Presenters:
Donna Hines
Donna grew up in a happy home in Washington, D.C. and North Carolina, with three brothers and six sisters. She graduated high school with honors, planned to attend college, and aspired to be a singer. (She was known in her community as the "girl with the voice.")
In 1993, she had a newborn, CJ (now 28 years old and a proud DC firefighter - EMT). While it wasn't easy being a new mother and student, she managed for a while with support from her parents and siblings – that is until they relocated to start new lives.
Donna then took on the challenge of balancing school while maintaining two jobs. Eventually though, she found herself homeless, without childcare, and with her son's father in jail. Donna began receiving public assistance until a relative offered her a place to live for a few months. She knew there was more to life than living on a fixed income and struggling day to day with a baby. Lacking guidance though, she began spending time with a rough crowd, and found herself in an abusive relationship.
In 1997, Donna had another son, Chaheed, born premature and in need of a kidney transplant. Thankfully, Donna was a perfect match and donated her kidney. When Chaheed was 10 years old, he told Donna that he preferred dressing like a girl, and Donna was accepting of this change. Today, the family calls Chaheed,Niq, andDonna happily reports that Chaheed is healthy and strong.Since those earlier days of hardship, Donna has made great strides,andholdsa professional position as a medical office manager. She also lives in her own home and has an 11-year-old daughter.
Donna says that life is good and that she and her family take trips together,gather for Sunday dinners, and talk often. Her son, CJ plans to purchase his first home, and Niq is working part time, living in a youth independent living facility. He is also studying to become certified in fashion design and will soon move to his own apartment. Donna says that she is continually learning something from her children.
Jan Willis, LCSW-C, Lac
Jan lives on a small farm on the Eastern Shore of Maryland with her husband and a menagerie of animals. She has an amazing 27-year-old daughter, Rowan Willis-Powell, who identifies as queer.
Professionally, Jan is a clinical social worker and acupuncturist. She has fashioned a fulfilling career doing consulting work with local management boards addressing systems of care issues and running her acupuncture practice, Healing Elements, in Easton, MD.
Jan is a cisgender, heterosexual female who prefers the pronouns she/her. She is an avid birder with a life list of over 1,650 bird species.
Justine Larson, M.D.
Dr. Justine Larson is a board-certified child and adolescent psychiatrist and the medical director of schools and residential treatment centers for Sheppard Pratt. Sheppard Pratt is the largest provider of nonpublic special education programming in Maryland, with 13 special education schools and residential treatment centers throughout the state.
Prior to joining Sheppard Pratt, Dr. Larson served as the Senior Medical Advisor to the Center for Mental Health Services at the Substance Abuse Mental Health Services Administration (SAMHSA). She has previous experience in outpatient settings at Community Clinics, Inc. and at Johns Hopkins Medicine.
Dr. Larson has also served as the medical director of the Arlington County Community Services Board. She completed her residency in psychiatry through the Harvard Longwood Psychiatry Training Program and her fellowship in child and adolescent psychiatry at Johns Hopkins Hospital. Dr. Larson earned her MD at Harvard Medical School, her MPH in Family and Community Health at Harvard School of Public Arts, and her Master of Health Sciences at Johns Hopkins School of Public Health.

Request No-Cost Technical Assistance or Training from NFSTAC at: www.nfstac.org/request-ta.
Providing Family Support Across the Lifespan | www.nfstac.org | info@nfstac.org
The National Family Support Technical Assistance Center of Excellence (COE) Grant #1H79F6000160-Fam-CoE is funded by SAMHSA.
The National Family Support Technical Assistance Center is led by the National Federation of Families.