Importance of enabling full brain potential to be a better programmer UCO
Description
Talk: Importance of enabling full brain potential to be a better programmer UCO
Presented by:
Greg Guthrie, PhD
Dean Emeritus and Professor of Computer Science
Maharishi University of Management, Fairfield, Iowa, USA
and
Elaine Guthrie, Director
Computer Science Department
Maharishi University of Management, Fairfield, Iowa, USA
with
Estudiar Maestría en Computer Science en MUM
Juan Pablo Ramirez, MSCS
Senior Software Engineer, Workiva, USA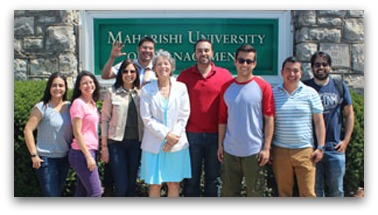 Current Colombian MUM Computer Science Master's Students with Director, Elaine Guthrie
---
Dirigido a: Egresados de Ingeniería de sistemas y/o afines con experiencia/participación proyectos de desarrollo de Software, estudiantes de último semestre de los anteriores programas.
---
NOTA: Por favor generar ticket por cuestiones de logística y espacio. Para la asistencia al evento no es necesario tener el ticket impreso.
Please REGISTER for a ticket for this event only if you are at least 80% certain you will attend. Thank you.
---
FAQs
How can I contact the organizer with any questions?
Email: faq.colombia@mum.edu
Where is Maharishi University of Management located?
Maharishi University of Management is located approximately 5 hours drive southwest of Chicago, in the upper midwest of the United States. Please see a map at http://mscs.mum.edu/contact.html.
Is MUM accredited?
Maharishi University of Management is accredited by the Higher Learning Commission in the U.S. This is the largest accrediting organization in the US, covering 19 midwestern states. Please click here for information on our accreditation status.
When are enrollments for international students?
August, October, April and August each year for our MSCS program.
Are there any other similar events upcoming in Colombia during this period?
Yes. See up-to-date tour information at https://mscs.mum.edu/10008-default/241-colombia-recruiting-tour.html.